Apple Responds to Concerns About Apple Watch Launch: Deliveries Could Arrive Sooner Than Estimated
Over the weekend, MacRumors reader Andrew Turko sent an email to Apple CEO Tim Cook sharing his thoughts on the launch of the Apple Watch and its limitation to online orders only, and he received a response from Apple's executive team that sheds some light on Apple's concern over its launch plans and the potential for Apple Watch devices to ship out ahead of their prospective shipping dates.
Many people have been concerned with the long wait times for the Apple Watch, which saw shipping estimates slip for many models less than an hour after it became available for pre-order. All models sold out in less than six hours, and orders placed today won't ship for months. There are a lot of buyers who are facing delivery times than span into June, July, and August, but Apple believes that some of these orders could ship out earlier than their estimated shipping dates.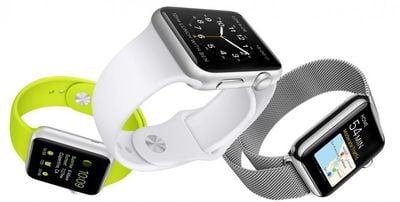 The Apple executive team member that spoke to Andrew referenced long wait times for earlier devices like the iPhone 6 and 6 Plus, noting that shipping estimates were often much longer than actual wait times and suggesting that the same thing might happen with the Apple Watch.
[Apple] said that June preorders will most likely ship sooner than June. Of course he didn't make any promises, but that's the reason Apple is announcing such an extended ship date after all - to avoid disappointment through false guarantees.
Andrew's email focused on Apple's decision to advertise April 24th as the Apple Watch launch day despite the fact that it won't be purchasable in store on that date, a point that stood out to both Apple's executive team and Tim Cook, who personally read the email.
"I think it'd be silly not to believe that there will be queues lined up around the globe on launch day if the "online exclusive" information regarding the (false) advertisement of a launch day isn't spread soon and fast."
The email echoed some of the problems Apple executives are debating, and Andrew was told the discussion over in-store stock on launch day and the advertisement of the 4/24 launch date for the Apple Watch are being considered by Apple with "great concern." Apple said it doesn't want people lining up at stores if there's no stock available to purchase.
Due to supply constraints and the desire to provide the best purchasing experience for customers, Apple has so far decided that all Apple Watch orders must be placed online. There will be no walk-in Apple Watch purchases available on April 24, unless the company's plans change. Andrew was told Apple's plans are not final, but it is unclear if Apple would be able to sell Apple Watch units in-store on launch day given the significant supply issues.
The executive Andrew spoke with said Apple "cares deeply" about the launch experience and hopes to improve the way people wait in line through the new Apple Watch reservation system. Online-only reservations are new territory for Apple in the United States, so it's not out of the realm of possibility that the company could revert back to traditional sales methods if its Apple Watch sales experiment does not work out.
Andrew's full email can be read on the MacRumors forums, as can more detail on the response that he received from Apple.