Jawbone announced the newest iteration in its line of wrist-worn UP fitness trackers back in November, but it's taken several months for the new devices to be ready to ship, likely because of all the new sensor additions.
The company began taking pre-orders several months ago and customers who purchased the devices have been waiting patiently for news on a ship date, which Jawbone delivered today. According to a blog post on the company's site, the UP3 will begin shipping out to customers in the United States on April 20.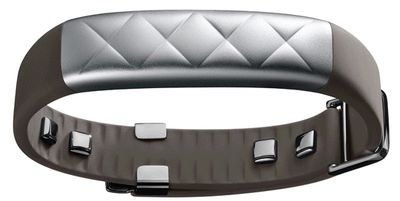 Pre-orders will ship in the order that they were received, and based on the number of orders, Jawbone expects all pre-order customers to receive their UP3 bands no later than mid-May.
According to Jawbone, the UP3 includes several new sensors that give it more advanced health and fitness tracking capabilities. It has a new tri-axis accelerometer, skin and ambient temperature sensors, and "bioimpedance" sensors that let the UP3 analyze a wide range of biometric data, including resting heart rate. It can track detailed sleep stages, distinguishing between REM sleep, light sleep, and deep sleep, and it can distinguish between different workout activities.
Today's blog post also includes an apology to customers, explaining that orders were delayed due to quality control issues with water resistance. The company hoped to offer water resistance up to 10 meters, but is unable to do so, making it unsuitable for use while swimming or under water. Customers who want to cancel their pre-orders can do so.
Our intention was to ship an advanced multi-sensor product that defied industry standards with water resistance of up to 10 meters. Unfortunately, after extensive and exhaustive testing we have been unable to guarantee 10 meters of water resistance for all UP3 units.

UP3 will now ship with a water resistance comparable to, and in line with, most other multi-sensor trackers. This means that UP3 is resistant to everyday splashing, including while washing hands or in the shower, but it is unsuitable for swimming or submerged use. We would like to apologize to customers who may have pre-ordered UP3 on the basis that it would be suitable for swimming. Customers who wish to cancel their pre-order will, of course, be able to do so with no charge.
The UP3 is available for pre-order for $179.99 from the Jawbone website. Orders placed today will ship out after pre-orders have been sent, arriving towards the end of May.