Apple Watch Review Roundup: The 'World's Best Smartwatch', But 'Not For Everyone'
Apple has given members of the media several hands-on experiences with the Apple Watch following its special events, but ahead of Apple Watch pre-orders, select sites have been able to get a much closer look at the device. Apple has provided a handful of publications with Apple Watch review units, giving them a chance to spend multiple days with the watch, and they've now shared their opinions in reviews published today.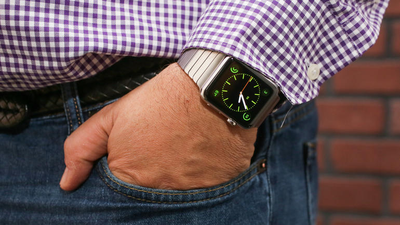 Apple Watch has received favorable reviews, but isn't for everyone (Image: CNET)
We've rounded up tidbits from several of the best reviews in order to give
MacRumors
readers a look at the Apple Watch from the perspective of those who have finally had a chance to use it extensively. The roundup includes reviews and opinions from
Bloomberg
,
The Wall Street Journal
,
The New York Times
,
The Verge
,
Re/code
,
Yahoo Tech
and other large publications that tested the Apple Watch.
The consensus among reviews is that the Apple Watch sets the bar for smartwatches, but has downfalls as a first-generation product and isn't for everyone. More specifically, the watch's goal of providing you with instant access to notifications of a paired iPhone can be both convenient and interruptive at times. Overall, the device is the future of the wrist and should get better after new features are added in the future.
Joshua Topolsky, Bloomberg:
"The watch is not life-changing. It is, however, excellent. Apple will sell millions of these devices, and many people will love and obsess over them. It is a wonderful component of a big ecosystem that the company has carefully built over many years. It is more seamless and simple than any of its counterparts in the marketplace. It is, without question, the best smartwatch in the world."
Farhad Manjoo, The New York Times:
"It was only on Day 4 that I began appreciating the ways in which the elegant $650 computer on my wrist was more than just another screen. By notifying me of digital events as soon as they happened, and letting me act on them instantly, without having to fumble for my phone, the Watch become something like a natural extension of my body—a direct link, in a way that I've never felt before, from the digital world to my brain. […]

What's more, unlike previous breakthrough Apple products, the Watch's software requires a learning curve that may deter some people. There's a good chance it will not work perfectly for most consumers right out of the box, because it is best after you fiddle with various software settings to personalize use. Indeed, to a degree unusual for a new Apple device, the Watch is not suited for tech novices. It is designed for people who are inundated with notifications coming in through their phones, and for those who care to think about, and want to try to manage, the way the digital world intrudes on their lives."

Geoffrey Fowler, The Wall Street Journal:
"With the Apple Watch, smartwatches finally make sense. The measure of their success shouldn't be how well they suck you in, but how efficiently they help you get things done. Living on your arm is part of that efficiency—as a convenient display, but also a way to measure your heart rate or pay at a cash register. This is a big idea about how we use technology, the kind of idea we expect from Apple. […]

Yet the Apple Watch isn't quite the gatekeeper to my digital life that I wanted. Take app alerts—there's a fine line between being in the know and having your wrist jiggle all day. It never got horrible for me, because Apple lets you assign VIP status to individual contacts and specify which apps can trigger alerts. But setting up all of this is a tedious—and unfortunately ongoing—chore."
Nilay Patel, The Verge:
"There's no question that the Apple Watch is the most capable smartwatch available today. It is one of the most ambitious products I've ever seen; it wants to do and change so much about how we interact with technology. But that ambition robs it of focus: it can do tiny bits of everything, instead of a few things extraordinarily well. For all of its technological marvel, the Apple Watch is still a smartwatch, and it's not clear that anyone's yet figured out what smartwatches are actually for."
Lauren Goode, Re/code
:
"Not everyone has an iPhone 5 or later, which is required for the watch to work. Not everyone wants her wrist pulsing with notifications, finds animated emojis thrilling or needs to control an Apple TV with her wrist. Smartwatches can sometimes feel like a solution in search of a problem. […]

One day this past week, I woke up at 5:15 am, exercised for an hour using the Watch, ran Maps during my commute, made phones calls and received notifications throughout the whole day, and by 11:00 pm the Watch was just hitting its Power Reserve point."
John Gruber, Daring Fireball:
"I've worn a watch every day since I was in 7th grade, almost 30 years ago. I'm used to being able to see the time with just a glance whenever there is sufficient light. Apple Watch is somewhat frustrating in this regard. Even when Wrist Raise detection works perfectly, it takes a moment for the watch face to appear. There's an inherent tiny amount of lag that isn't there with a regular watch.

Some other specific examples. I was in New York last week, and stopped to have coffee with a friend in the afternoon. He had a meeting to get to, and I wanted to catch a 4:00 train home to Philadelphia. I was sitting on a low bench, leaning forward, elbows on my knees. It got to 3:00 or so, and I started glancing at my watch every few minutes. But it was always off, because my wrist was already positioned with the watch face up. The only way I could check the time was to artificially flick my wrist or to use my right hand to tap the screen — in either case, a far heavier gesture than the mere glance I'd have needed with my regular watch."
David Pogue, Yahoo Tech:
"The Apple Watch is light-years better than any of the feeble, clunky efforts that have come before it. The screen is nicer, the software is refined and bug-free, the body is real jewelry. First-time technologies await at every turn: Magnetic bands, push-to-release straps, wrist-to-wrist drawings or Morse codes, force pressing, credit-card payments from the wrist. And the symbiosis with the iPhone is graceful, out of your way, and intelligent.

But the true answer to that question is this: You don't need one. Nobody needs a smartwatch. After all, it's something else to buy, care for, charge every night. It's another cable to pack and track. Your phone already serves most of its purposes. With the battery-life situation as it is, technology is just barely in place to make such a device usable at all."
Scott Stein, CNET:
"We're still two weeks away from Day One of the Apple Watch. It's already got tremendous potential, lots of software, and beautiful design. I like wearing the Apple Watch, and it might be my favorite smartwatch...if its battery life lasted beyond one day. That makes me want to return to the Pebble again, or wait and see what Pebble Time, a more bare-bones but much more affordable watch, feels like."
Additional reviews were published by Mashable, USA Today and Techpinions.
The Apple Watch will be available to pre-order beginning on Friday, April 10 at 12:01 a.m. Pacific Time. Orders will go live in all first wave launch countries simultaneously. Try-on appointments for the Apple Watch will also be available on April 10, giving customers a chance to experience the Apple Watch in person ahead of its April 24 launch.