Apple Watch Hands-On: A First Look at Software, Apple Pay, Water Resistance, and More
We got several hands-on first impressions of the Apple Watch following its September debut, but at that time, finished versions of the Apple Watch with fully functional software were not available.
As of today, members of the press are getting their first look at Apple Watches running near-complete versions of Watch OS, and several sites have shared new tidbits and thoughts on the device, which we've rounded up below.
TechnoBuffalo's Jon Rettinger tested the aluminum Apple Watch Sport, Apple's most affordable watch, giving a demo of the device's software. A hard press on the screen brings up different watch faces, each of which can be customized, as Tim Cook described during today's event.
In a second video,
TechnoBuffalo
takes a look at the design of the Apple Watch Sport, giving a close up of the backside of the watch and what it looks like on the wrist.
Mashable's Lance Ulanoff
says all of the different Apple Watch versions "feel good to the touch" and that there's not much difference in the display between the Apple Watch Sport with Ion-X glass and the Apple Watch with sapphire crystal. He also has good information on the fit, which is comfortable despite its protruding back.
Apple Watch is not curved to your wrist. In fact, the back bulges out over so slightly to make sure the sensors touch the wrist. This didn't look like it would be comfortable, but it was -- completely. I also got to try a number of different bands. I think the rubbery sports bands are fine, but not my favorite -- they certainly make sense for the more active set. I like leather and metal options, most of which employ some sort of magnet to clasp and even adjust sizing.
TechCrunch's Darrell Etherington says that the Apple Watch system software is "expectedly intuitive." The Digital Crown takes a bit of time to adjust to, but ultimately, it "makes as much sense" navigation wise as the iPod's clickwheel. Touch input is "fast and responsive."
The camera remote, which allows the Apple Watch to control the iPhone's camera, is described as "especially clever" because it gives photographers a way to capture group shots and timed shots.
Re/code
's Jason Del Rey has a detailed look at how Apple Pay will work on the Apple Watch. Apple Pay users will need an iPhone that links to the Apple Watch to share payment information from the iPhone. The Apple Watch does not store card or account information, using a placeholder code instead.
First, you need to own an iPhone -- a 6, 6 Plus or a 5, 5C or 5S to use Apple Pay with the Apple Watch. Watch owners have to open the Apple Watch app on their iPhone, which Apple is installing on phones as part of an iOS software update. Once the Apple Watch app is open, you tap the Passbook and Apple Pay option in the app to add a credit or debit card to be used for in-store payments using the Apple Watch.
A passcode is required for setting up Apple Pay with the Apple Watch, and it has to be re-entered every time the watch is put back on after being removed to unlock Apple Pay. A payment is made by tapping the side of the Apple Watch twice and holding it near a payment terminal. According to Re/code, it does not look like users must have their iPhones with them to make payments with the Apple watch after linking.
Several small details on the Apple Watch have also been shared by Apple on its updated Apple Watch pages. The Apple Watch, for example, has a water resistance rating of IPX7 according to a footnote on the page, meaning its splash and water resistant but it is not waterproof. It can be worn during exercise, in the rain, and while washing your hands, but submerging it is not recommended.
An Apple Watch apps page on Apple's site shows off a range of apps that were demoed during the event and some that weren't, giving a quick look at some of the things the Apple Watch will be able to do. With the SPG Hotel app, Starwood hotel visitors can use the Apple Watch to unlock their rooms, and with the American Airlines app, Apple Watch owners can get their boarding passes right on their wrists.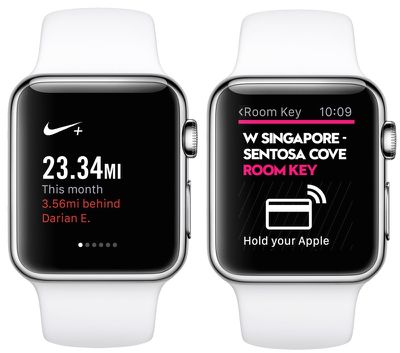 The Nike+ Running app displays distance, duration, and pace on the Apple Watch, while the Instagram app allows users to browse their feeds, like photos, and leave emoji comments. Shazam will identify songs, Dark Sky will let users know the chances of rain or snow, and the NYTimes Apple Watch app will offer headlines and breaking news.


iOS 8.2, released today, includes an Apple Watch companion app that has some information on Apple Watch setup. The Apple Watch will quickly connect to an iPhone using the camera. You just need to hold the Apple Watch up to the camera and align the watch display with the view finder. From there, the Apple Watch App Store is accessible, but it has yet to be populated with apps. It is not possible to delete the Apple Watch app from the iPhone in iOS 8.2.


The Apple Watch will be available for pre-order beginning on April 10. Apple will also begin allowing customers to test the device in its retail stores on that date.