Apple's recently announced 12-inch Retina MacBook has been met with both praise and criticism ahead of its upcoming release on April 10. The new MacBook, positioned at the lower end of Apple's notebook lineup, paves the way for the future with an ultra-thin design, one USB-C port, redesigned keyboard with an all-new butterfly mechanism, Force Touch trackpad, fanless architecture and all-day battery life.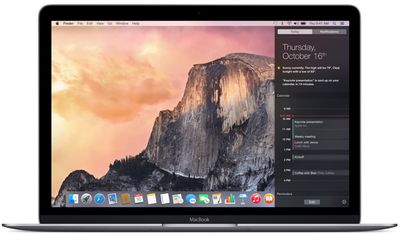 At the same time, the new MacBook has been criticized for having an Intel Core M processor, a system-on-a-chip that Intel typically markets for use in mobile devices. The single USB-C port, which combines power, USB, DisplayPort, HDMI and VGA connections into one, is also an area of concern for some, especially given that costly adapters must be used to connect many external devices and peripherals to the notebook.
Look no further than this parody of an Apple engineer talking about the Retina MacBook on YouTube, where it has amassed over 5 million views since being uploaded in early March. The video pokes fun at the Retina MacBook for, among other reasons, having one port and a 480p front-facing camera. Rest assured, the parody's creator Armando Ferreira is an Apple fan that owns an iPad and a few MacBooks himself.
While waiting for Apple to lift its embargo for large tech publications to publish their in-depth Retina MacBook reviews, we've sifted through the
MacRumors
forums and highlighted some of the more interesting discussions about the notebook. Read ahead for a roundup of opinions and noteworthy comments about the Retina MacBook, and be sure to join the conversation within the discussion forums.
Forum Discussion Threads
Visit our MacBook section within the forums to keep up with the latest discussions.