Early Benchmarks Put Retina MacBook CPU Performance in Range of 2011 MacBook Air
Though the Retina MacBook isn't officially launching until April 10, an early 64-bit Geekbench benchmark of the entry-level machine was spotted this afternoon, giving us our first glimpse at how the new ultra thin MacBook measures up to existing products in Apple's notebook line.
The 1.1GHz entry-level Retina MacBook with an Intel Core M-5Y31 processor was benchmarked twice, giving two single-core scores of 1924 and 2044, and multi-core scores of 4038 and 4475. Comparatively, the 2015 entry-level MacBook Air with a 1.6GHz Intel Core i5 processor has seen scores in the neighborhood of 2881 (single-core) and 5757 (multi-core), so it's a good bit faster than the new MacBook.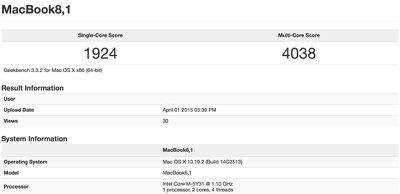 Performance wise, the Retina MacBook CPU seems to be par with the higher-end 2011 MacBook Air with a 1.8GHz Core i7 processor, but graphics performance on the new MacBook, which Geekbench does not measure, should be far superior to the 2011 machine. Taking into account the Intel HD 5300 graphics and an improved SSD, the Retina MacBook will outperform the aforementioned 2011 MacBook Air even though the CPU speeds are similar.
Apple offers two additional processor upgrade options for the Retina MacBook, at 1.2GHz in the higher-end machine and at 1.3GHz as an optional build-to-order upgrade, both of which will see somewhat better performance results than the entry-level 1.1GHz processor.
The new Retina MacBook, which is Apple's thinnest and lightest notebook to date, will go on sale on April 10. Prices start at $1,299 for the 1.1GHz/8GB/256GB model and $1,599 for the 1.2GHz/8GB/512GB model.
Update 8:34 PM: The original Geekbench results have been deleted, but a Google cache is available.
(Thanks, David!)