Samsung's Galaxy S6 Bends as Easily as iPhone 6 Plus
Third-party warranty firm SquareTrade recently released a video showcasing the durability of the new Samsung Galaxy S6 Edge and HTC One M9, discovering the Galaxy to bend at 110 lbs of pressure and the One M9 to bend at 120 lbs of pressure.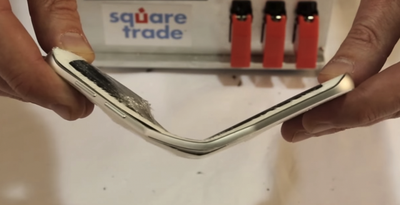 Although the Galaxy S6 Edge's pressure limits are comparable to the iPhone 6 Plus' testing, the Galaxy's screen ended up cracking under the pressure instead of slightly bending similar to Apple's plus-size iPhone model. The HTC One M9 lasted further than its two competitors, reaching 120 lbs of pressure, but the phone was rendered useless thanks to a faulty power button following the pressure test.
Testing to the point of "catastrophic failure", the iPhone 6 Plus survived 179 lbs of pressure, beating out the Galaxy S6 Edge's 149 lbs stress test. As SquareTrade points out, the Galaxy's stress tests proves the phone could be worse for users due to the smartphone's screen cracking under intense pressure.
Following the "
Bendgate
" controversy last year, both Samsung and HTC
parodied
Apple's woes on social media. Though SquareTrade's pressure tests are meant to measure intense circumstances, it's still interesting to see where each smartphone lies on the durability scale when compared to one another.