Samsung, HTC, BlackBerry, and Others Mock 'Bendability' of Apple's iPhone 6 Plus
Competition between mobile phone manufactures is fierce with handset companies using social media and other public platforms to call out their competitors. It's not surprising then to see a wave of tweets and comments from big name companies like Samsung and HTC mocking Apple following its recent iPhone 6 Plus bending controversy.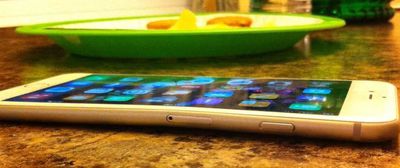 LG and HTC were among the first to attack Apple, commenting on Twitter shortly after the #bendgate controversy began to escalate. At the same time, BlackBerry CEO John Chen mentioned the bending issue during the company's launch of its new Passport handset, saying "I challenge you to bend the Passport," reports CNET.
Nokia Deutschland
, and even candy maker and Android sponsor
KitKat
also joined in on the mockery, noting that their products don't bend.
were accidentally bending
their 5.5-inch handsets after placing them in their pockets. While the prevalence of the issue appears fairly low, photos of warped iPhone 6 Plus units spread like wildfire, with subsequent
"bend test" videos
showcasing how much the iPhone 6 Plus was susceptible to bending.
According to The Next Web, Apple reportedly is looking into the issue "with an insane amount of detail." A support representative also confirmed Genius technicians may replace bent phones under warranty following a visual inspection. Such inspections typically reject bent iPhones for warranty coverage, however, and it is unclear how much latitude Geniuses will have with this issue.