Apple Won't Allow Swapping of Bands at Apple Watch 'Try-On' Appointments
The Apple Watch will be available for in store previews and Try-On appointments starting on April 10th. The Apple Watch comes in a variety of sizes, colors, and band-types which can make the decision of how to pick a band and Apple Watch combination complicated.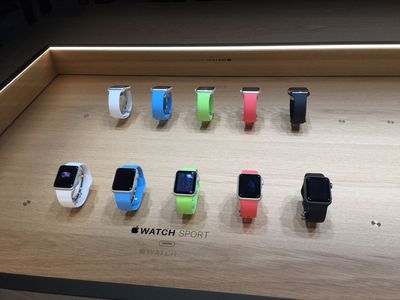 Apple has a number of recommended combinations highlighted on their online store, but also sells bands separately, allowing customers to potentially mix and match between the various Apple Watches and bands. Some combinations could yield a mix of materials that readers feared may not look natural together, such as an aluminum Apple Watch Sport and a stainless steel accented band. The stainless steel Apple Watch is the most cosmetically versatile but carries a $200 premium over the aluminum Apple Watch Sport.
Apple, however, will not allow customers to try arbitrary mix and match options during their Apple Watch Try-On appointments, presumably in the interest of time and simplicity. According to retail training materials MacRumors received, Apple specifically states that they "will not size links or swap bands" at the Try-on table or Try-on cases. Try-on appointments for non-Edition Apple Watches are meant to last only 5-15 minutes. Apple will have 18 specific Apple Watch combinations on display at their Try-On tables and 10 specific combinations at their Try-On cases.
Apple Watch pre-sales and try-on appointments start on April 10th, and the official launch of the Apple Watch is April 24th.