Intel's New 3D NAND Technology Allows for Greater Than 10TB Solid-State Drives
Intel and Micron on Thursday announced the availability of new 3D NAND technology that enables high-density flash devices with three times more storage capacity than other NAND technologies in production. 3D NAND technology is also more cost efficient than planar NAND, with faster performance, improved latency and new sleep modes that result in low-power use by cutting power to inactive NAND die.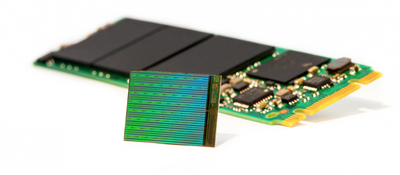 The advancements pave the way for future Macs and other devices with flash memory to be equipped with greater than 10TB solid-state drives, significantly more storage capacity than the maxed out 1TB PCIe-based flash storage upgrade option that Apple offers for the MacBook Pro, iMac and Mac Pro. As planar NAND faces practical scaling limits, Intel and Micron expect that 3D NAND will shape the future of flash memory.
"Micron and Intel's collaboration has created an industry-leading solid-state storage technology that offers high density, performance and efficiency and is unmatched by any flash today," said Brian Shirley, vice president of Memory Technology and Solutions at Micron Technology. "This 3D NAND technology has the potential to create fundamental market shifts. The depth of the impact that flash has had to date—from smartphones to flash-optimized supercomputing—is really just scratching the surface of what's possible."
3D NAND has innovative process architecture with a floating gate cell that enables greater performance and increased quality and reliability. Intel and Micron expect that 3D NAND technology, which "stacks flash cells vertically in 32 layers to achieve 256Gb multilevel cell (MLC) and 384Gb triple-level cell (TLC) die," will result in continued performance gains, cost savings and widespread adoption of flash storage solutions for mobile consumer devices and enterprise deployment.
Intel and Micron claim that the 256Gb MLC version of 3D NAND is being sampled by select partners beginning this week, while the 384Gb TLC design will be sampling later this spring. Both devices are slated to enter full production in the fourth quarter, and both companies are developing separate lines of SSD solutions based on 3D NAND technology that are expected to be available within the next year.
Given that flash storage solutions using 3D NAND are not expected to be available until the end of this year at the earliest, it is unlikely that larger SSDs based on the new technology will be included in any next-generation Macs for the foreseeable future. Apple also recently refreshed the MacBook Air and 13-inch MacBook Pro, so those two notebook models in particular are still early in their product cycles.