Former Beats Execs Jimmy Iovine and Trent Reznor Leading Development of Apple's New Music Service
Rumors about a revamped Apple-branded Beats streaming music service have been circulating since September of last year, but as the launch of the service draws nearer, information on pricing and content has been leaking out.
In a detailed report on the upcoming service published today, The New York Times confirms some previously known information and adds new details on the roles Trent Reznor and Jimmy Iovine are playing in the development of the music service. The report also divulges some information on Apple's interest in exclusive album releases and the company's work on an iTunes Radio revamp.
Apple's upcoming streaming music service is said to take on many of the characteristics of the existing Beats Music service, with a focus on curated playlists and a "vivid visual appeal" that also fits into Apple's minimal design aesthetic. It's unlikely to retain the "Beats Music" moniker, and it is being tested as a part of an upcoming update to iOS, previously said to be iOS 8.4.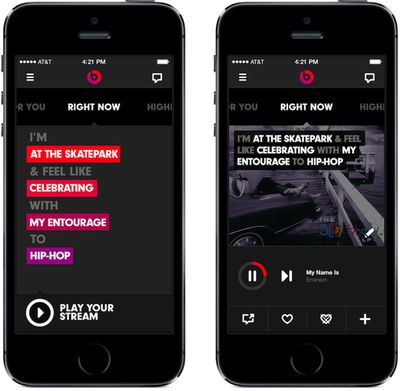 As previously rumored, while Apple hoped to price its new service at $7.99, undercutting the prices of competing services like Spotify and Rdio, it saw significant resistance from record companies. As a result, the service will likely be priced similarly to those other services, at $9.99 per month, but it will have no free tier.
Nine Inch Nails frontman Trent Reznor, who was the Chief Creative Officer at Beats before it was acquired by Apple, is "playing a major role" in the redesign of the music streaming app. Jimmy Iovine, Beats co-founder, is also said to be playing an important role furthering Apple's music ambitions.
Mr. Iovine has set the tone of the transformation of Apple's music plans, according to music executives. Mr. Iovine, who reports to Eddy Cue, Apple's head of software and Internet services, has been leading aggressive talks to secure prominent album releases that will be exclusive to Apple, akin to what Beyoncé did when she released her self-titled album on iTunes in December 2013. One music executive involved in the negotiations described this part of the new iTunes as "Spotify with Jimmy juice."
Along with a revamped music service, Apple is said to be planning to debut an enhanced version of iTunes Radio, which will be more tailored to listeners in regional markets and more like a traditional radio station. Recent hire Zane Lowe, a former BBC radio DJ has joined the iTunes Radio team as part of this effort.
Rumors have suggested that Apple's revamped music service will debut at this year's Worldwide Developers Conference, alongside a new streaming television service and a new Apple TV set-top box.