Apple Watch Band Adapters Begin Hitting Crowdfunding Sites Ahead of Next Month's Launch
The Apple Watch is still several weeks away from making its official debut, but that hasn't stopped dozens of inventors from coming up with accessories for the device, and many of those ideas are showing up on crowdfunding sites like Kickstarter and Indiegogo.
Along with charging stands, band adapters are a popular category for crowdfunding campaigns, and several different projects have been started with the hope of creating solutions that will allow the Apple Watch to be used with third-party watch bands.
Earlier this month, we covered the Click Apple Watch band adapter, showing off a 3D printed prototype, and now that project has been further developed and launched on Kickstarter. Click is a band adapter aiming to make most 22mm watch bands compatible with the Apple Watch.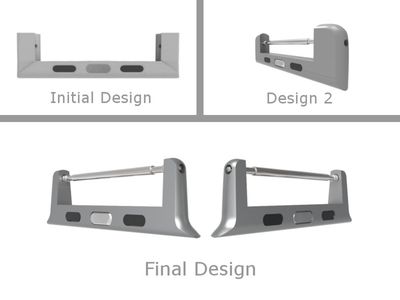 Rendering of the Click adapter design


Click is a simple adapter that slides into the grooves of the Apple Watch, much like one of Apple's own watch bands. It supports several different pin styles, including spring bars, T-bars, and quick release bars, promising to give Apple Watch users more band options at an affordable price. It will come in two sizes and four finishes, to match all of the Apple Watch casings. Click also has plans to offer its own leather bands in nine colors.

Click adapter prototype in 3D printed Apple Watch
Until now, there has been no affordable way to customize the bands on your Apple Watch. The current selection is small and very expensive. We want you to be able to express yourself in every situation, because you shouldn't have to change for your watch; your watch should complement you. With Click, you can truly personalize your Apple Watch without breaking the bank.
Another Apple Watch band adapter also promises to let users wear their Apple Watches with existing watch bands. The Adappt is very similar to the Click, with Adappt also pairing its adapter with watch bands in addition to selling it separately. Like the Click, it slides into the Apple Watch band groove on one side and the second side features a standard pin that's used by most watch bands.

Rendering of Adappt Apple Watch adapter


Adappt will be available in plastic, anodized aluminum, stainless and gold plated steel, in colors to match each Apple Watch, and it will be available in two sizes.

Rendering of Adappt Apple Watch adapter color options
Thanks to high quality materials, Adappt will match perfectly your Apple Watch. Our aluminum is anodized through an electro-chemical process that creates a porous surface, then coated with a dye, to look and feel exactly like the Sport edition versions, Silver and Space Grey Aluminum.
Adappt's bands will come in rubber, leather, metal, and are priced very reasonably at $9 to $18, adapter included.
The Adappt band was actually launched previously on Kickstarter as the Standap and later removed, leading many to believe that its disappearance was at the behest of Apple, but it appears that Apple has not yet taken a stance on these types of adapters that will allow the Apple Watch to work with any band.
In the weeks leading up to the Apple Watch launch, we'll undoubtedly see additional band adapters and other accessories designed for the device. The Apple Watch will become available on April 24, but it will be available for pre-order and in-store try on beginning April 10.
The Click Apple Watch band adapter is priced at $10 for early backers, with delivery set for May 2015. Later backers will need to pay up $15 for a June 2015 delivery.
The Adappt Apple Watch band adapter starts at $7 for a plastic version, and goes up to $250 for a gold plated version. Adapters and bands from Adappt will ship in June of 2015.