Retina MacBook Pro Users Complain of Anti-Reflective Display Coating Wearing Off
A growing number of users have turned to the Apple Support Communities, MacRumors discussion forums and Facebook in recent weeks to voice their complaints about the anti-reflective coating on Retina MacBook Pros becoming scratched or wearing off. The long-standing display issue appears to affect several MacBook Pros, including mid-2012 to mid-2014 models sold between June 2012 and present.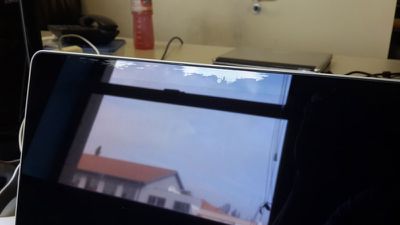 The anti-reflective coating appears to be wearing off under a variety of circumstances, including the pressure of the keys and trackpad on the display when closed, and the use of third-party cleaning solutions and microfiber cloths. While the issue is typically isolated to small areas of the screen, some users have shared pictures showing the anti-reflective coating wearing off across virtually the entire display.
"I had the exact same problem, and I followed the cleaning instructions on the Apple website: a lint free cloth and a small amount of water," writes MacRumors forum member wj2. "Was trying to remove a mark in the corner of my screen and a shiny scratch appeared on the bezel. It grew in size and it looked like the coating on the bezel was coming off like everyone is saying. Started happening at the top of my display by the camera also. I looked it up and stumbled across this same forum and realized that it was a problem that I should take up with Apple."
Affected users have received mixed responses from Apple. While some Retina MacBook Pro owners covered under a one-year limited warranty or AppleCare Protection Plan have been able to get their notebook repaired through the Genius Bar for no charge, others have been told that cosmetic damage is not covered under warranty and offered to have their notebooks repaired for a service charge costing hundreds of dollars.


While the anti-reflective coating issues are not new, with complaints dating back to at least August 2013, the problem has been gaining momentum in recent weeks. The issue has received over 100,000 views and 600 responses between the Apple Support Communities and MacRumors discussion forums, and dozens of users have submitted pictures of their damaged Retina MacBook Pros throughout March in a Facebook group set up to discuss the problem.
Update Mar 17: An unofficial website called "Staingate" has launched where affected users can join a database and submit photos of the display coating wearing off on their MacBook Pro.