Oracle Now Bundling Ask.com Adware With Java for Mac
For years, Oracle has been bundling an Ask.com search toolbar with Java for Windows, relying on what some call deceptive methods to get users to install the add-on to their browsers. Now, the company has extended its adware strategy to Java for Mac, according to ZDNet.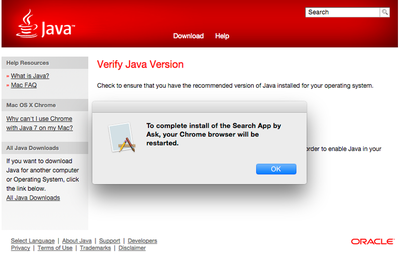 The unwelcome Ask extension shows up as part of the installer if a Mac user downloads Java 8 Update 40 for the Mac. In my tests on a Mac running that latest release of OS X, the installer added an app to the current browser, Chrome version 41. (In a separate test, I installed Java using the latest version of Safari, where it behaved in a similar fashion.)
The Java installer selects the option to install the Ask extension by default, which means that users casually clicking through the dialogue boxes would find the extension installed and enabled on their browser of choice. Oracle has also updated its installation instructions for Mac to account for the change.
As noted by ZDNet, Ask.com typically provides low-quality search results and numerous ads with little distinction between ads and organic results. Ask.com parent company IAC pays a commission to Oracle and other companies that bundle the Ask extension with its products.
Users who want to remove the Ask toolbar can do so from the Help menu for the Ask toolbar on Chrome. Alternatively, users can go to the Chrome menu bar, then Preferences, then the settings page, then Manage Search Engines to remove Ask, followed by removing the extension from the Extension tab. Safari users can do so by going to Extensions in the Safari preferences and turning it off.