Apple Watch Gets Another Competitor in the Android-Based LG Watch Urbane
LG Electronics today announced a new device in the line of Android Wear smartwatch products, called the LG Watch Urbane. Planned for a full unveiling at Mobile World Congress next month, the watch is said to combine the traditional aspects of a luxury timepiece with the "high-tech flare" of a modern smartwatch.
The LG Watch Urbane follows in the footsteps of LG's previous foray into the world of smartwatches with the LG G Watch R, launched last October. LG says while the G Watch R was designed with a more active lifestyle in mind, the Watch Urbane has taken a more formal, classic route that will suit both men and women. Despite the formal look, the Watch Urbane is powered by a smartwatch-style touch-based interface that is compatible with any smartphone running Android 4.3 or above.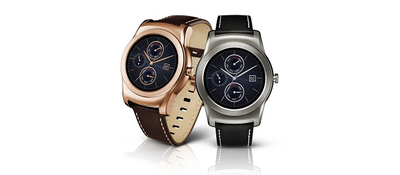 "The LG Watch Urbane's classic design and smart features make it the perfect smartwatch to complement our G Watch and G Watch R, which were designed as more casual and active devices," said Juno Cho, president and CEO of LG Electronics Mobile Communications Company. "LG Watch Urbane is an important part of our strategy to develop wearable devices that are worn and viewed as everyday accessories, not electronic gadgets."
The LG Watch Urbane includes the same 1.3-inch full circle P-OLED display as the LG G Watch R - which was the first smarwatch to include such a display - but features a narrower bezel this time around, offering it that more formal, sleeker look touted by LG. The watch comes in gold and silver options with a natural leather strap that can be replaced by any 22mm wide band, according to the company.
Not many specific details were given on the device's smartwatch capabilities, but LG confirmed the LG Watch Urbane will be able to measure a user's heart rate for fitness purposes thanks to a photoplethysmography (PPG) sensor built into the device. Other key factors, like pricing and whether the new Android-based smartwatch will hit around the Spring launch of the Apple Watch, was not yet disclosed by LG.

Key Specifications:

- Chipset: 1.2GHz Qualcomm® Snapdragon™ 400
- Operating System: Android Wear™
- Display: 1.3-inch P-OLED Display (320 x 320, 245ppi)
- Size: 45.5 x 52.2 x 10.9mm
- Memory: 4GB eMMC/ 512MB LPDDR2
- Battery: 410mAh
- Sensors: 9-Axis (Gyro / Accelerometer / Compass) / Barometer / PPG (Heart Rate Sensor)
- Colors: Gold / Silver
- Other: Dust and Water Resistant (IP67)
LG's newest foray into the increasingly crowded world of smartwatches is the latest in a long line of companies announcing new iterations of older products, or new products altogether, preparing to do battle with Apple's April launch of the Apple Watch.