Apple Watch Set to Include Third-Party Glucose Tracking App at Launch
Medical device manufacturer DexCom over the weekend announced the company is developing an app for the upcoming Apple Watch that will display all of a user's glucose and blood sugar-related health data on their wrist (via The Wall Street Journal).
The company, whose expertise lies in "continuous glucose monitoring systems for diabetes management," says the app is expected to be ready when the Apple Watch launches in April. The app would sync to existing monitors manufactured by DexCom that use a "hair's width sensor" located under the user's skin to measure and report blood glucose levels every five minutes, a more seamless process than traditional skin-prick glucose monitors, according to the company.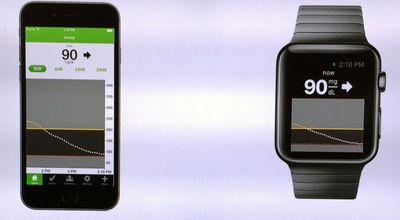 Though most health-related apps have been closely scrutinized by the FDA in the past, The Wall Street Journal reports DexCom and a group of developers behind another diabetes-related application called NightScout have convinced the FDA to change course on health apps.
The group's effort challenged the slow pace of innovation and regulatory approval in the field. It also highlighted the growing role that Silicon Valley companies and software developers hope to have in monitoring and maintaining people's health.

Previously, the FDA considered glucose monitors and any associated software to be Class III medical devices, meaning they received the highest level of regulatory scrutiny. But the spread of NightScout, the system developed by the group of software engineers, and DexCom's submission of a separate iPhone app for review prompted the FDA to change course last month.
Subsequently, DexCom's monitors that require injection under a patient's skin will understandably remain Class III devices but the software that displays the data - such as the Apple Watch app - now only needs to be registered with the FDA without prior marketing approval. Alberto Gutierrez, director of the FDA's Office of In Vitro Diagnostics and Radiological Health, evoked the positive benefits of the app far outweigh any negatives, "We felt that the risks that the app imposed weren't as high."
Apple itself has been steadily moving towards a more health-concerned future, with the introduction of the Health app into iOS 8 as a preparation for the upcoming built-in fitness integration features of the Apple Watch. Major U.S. hospitals are rolling out their own trial programs with HealthKit, Apple's tools that leverage the iPhone's various motion-tracking sensors and peripheral accessories to track and log the history of a user's health data.