Apple CEO Tim Cook: Apple's 'Creative Engine' Has Never Been Stronger
During today's fiscal fourth quarter earnings call, Apple CEO Tim Cook said that "obviously" the company is working on new products, but that he was going to keep things in the "cone of silence."
I'm not sure what to say. I'm not going to give any hints. We look at a lot of different things and we're fortunate to have a lot of creative people here that want to change the world and have a lot of great ideas.
Cook went on to say that Apple's "creative engine" had never been stronger and the company had never been more passionate, as evidenced with Apple's recent launches of Apple Pay and Apple Watch. Apple Pay, said Cook, is "classic Apple," with the company taking something old and outdated and focusing on making something "very elegant."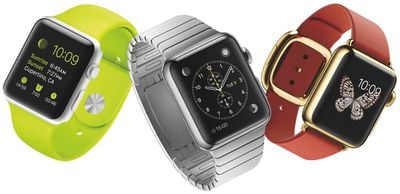 Cook also extolled the virtues of Continuity, which allows Macs and iOS 8 devices to integrate in new and innovative ways. "Use your imagination and think about where Continuity goes," said Cook. He went on to say that it would be "incredibly important" going forward for customers.
Cook said that Apple's investors should look at what Apple's done and what it has delivered, along with the skills of the company. Apple is the "only company on the planet" that has the ability to integrate hardware and software at a "world class level" according to Cook, but the company always has "more ideas than resources" to deal with. He also said as a personal investor, he "feels great" about products that are coming up in 2015.
While Cook declined to mention what products Apple might be working on, rumors have suggested the company has several new devices in the works that could significantly boost future sales, including a 12-inch Retina MacBook Air and a 12.9-inch iPad, dubbed the "iPad Pro" by the media.