American Express over the weekend released a new advertisement called "Retrospective" that promotes how its timeless safety and security are now available through Apple Pay. The 30-second spot takes a trip down memory lane as it recounts the brand's historic past, starring a number of famous cardholders such as Jerry Seinfeld and Tina Fey in both the past and present.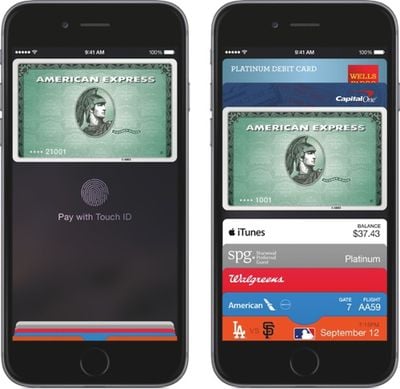 The advertisement first aired during the mid-season premiere of The Walking Dead on Sunday night and will also be featured during the NBA All-Star Game later this week. American Express does not provide an exact number of Apple Pay signups, but Ad Age reports that the credit company has received "encouraging feedback" from early iPhone 6 and iPhone 6 Plus adopters.
Apple Pay
makes up two of every three contactless payments
on Visa, MasterCard and American Express, while an additional 750 banks and credit unions have signed on to support the iPhone-based service. Apple Pay is currently limited to the United States, although an international rollout could start with
Canada in March
.