Tapbots, the company behind the popular Tweetbot Twitter client, today tweeted a tantalizing preview image of Tweetbot 2 for Mac, which has received a Yosemite-style redesign.
Based on the photo, Tweetbot 2 adopts many stylistic elements from Yosemite, allowing it to blend in well with the updated operating system. It features a flatter look with redesigned icons, plus a translucent navigation bar. It also uses circular profile photos, much like Tweetbot for iPhone.
According to Tapbots, the Yosemite update has been "more work than anticipated," which explains why the Mac app has yet to see an update even though Yosemite launched in October. The company has also confirmed that Tweetbot 2 for Mac will be a free update.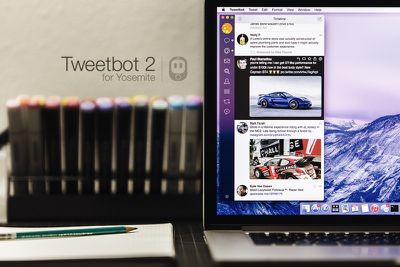 Tweetbot for Mac made headlines last week when it temporarily disappeared from the App Store, leading some to speculate that it had reached its Twitter token limit, a restriction Twitter places on the number of users allowed for third-party Mac clients, but the disappearance was only temporary and Tweetbot returned to the Mac App Store after a day of absence.
Though Tapbots has confirmed that Tweetbot 2 for Mac is in the works, the company has not divulged a possible release date for the software. There is also no new word on a new iPad app, which has not been updated since June of 2014 and has not received an iOS 7 redesign.
Tweetbot for Mac can be downloaded from the Mac App Store for $19.99. [Direct Link]