Tapbots
By MacRumors Staff
Tapbots Articles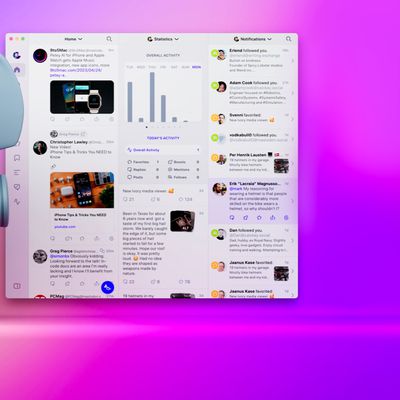 Tweetbot creator Tapbots this week released Ivory for Mac following months of beta testing, bringing its well-designed Mastodon app to the desktop. Mastodon is a social network that gained popularity following Elon Musk's takeover of Twitter last year. A new "Universal" subscription tier allows users to access Ivory across the Mac, iPhone, and iPad for $24.99 per year, or users can subscribe ...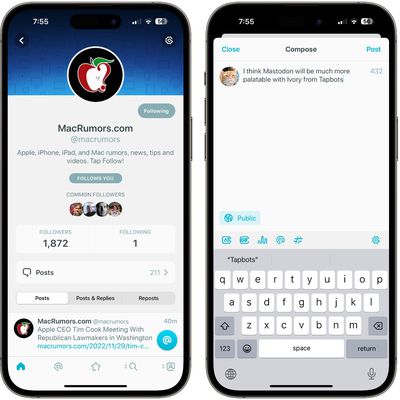 Tapbots, the company behind now-defunct Twitter client Tweetbot, today launched Ivory, an app that is designed to be used with the Mastodon social network. Available for the iPhone and the iPad, Ivory has been in testing with a limited number of beta testers since late November, but with Twitter officially ending API access for third-party Twitter apps, Tapbots accelerated development and...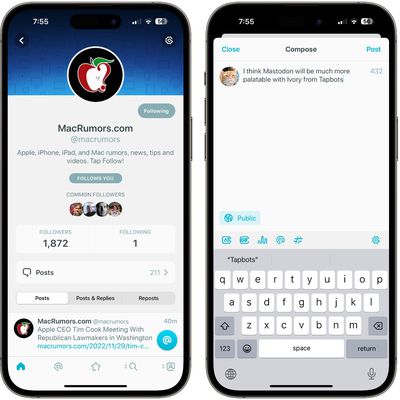 Tapbots, the company behind the popular Tweetbot app designed for Twitter, is working on developing a new app called Ivory that integrates with the Mastodon social network. Currently in beta testing, the Ivory app is in the early stages of development, with many features that still need to be implemented and bugs that need to be worked out, but it is a promising start. Many Twitter users...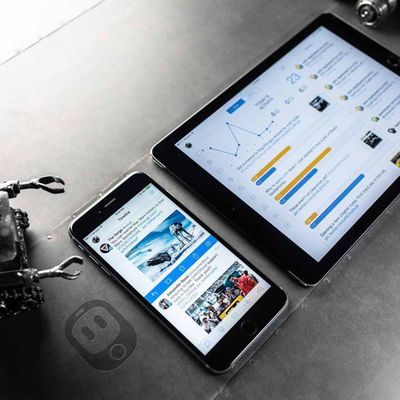 Ahead of upcoming Twitter changes set to be implemented tomorrow, Tapbots has released an updated version of its Tweetbot app for iOS devices, removing several features that have been present in the app for years. Timeline streaming over Wi-Fi has been disabled, which means Twitter timelines will refresh every one to two minutes instead of as new tweets come in. We've been using the Tweetbot...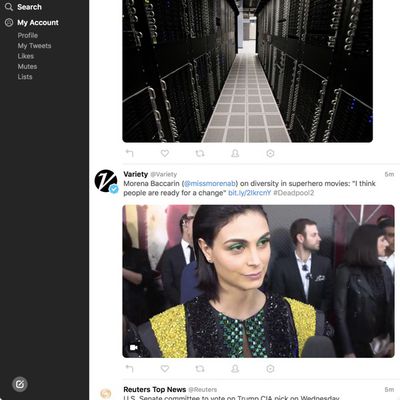 Tapbots is today launching Tweetbot 3, a new and updated version of its popular Tweetbot for Mac app. Tweetbot 3 features a revamped interface that was rewritten from the ground up for the Mac. Compared to Tweetbot 2, the new app features a cleaner interface with more white space, persistent icons for replying, retweeting, liking, profile options, and more, and an overall cleaner look....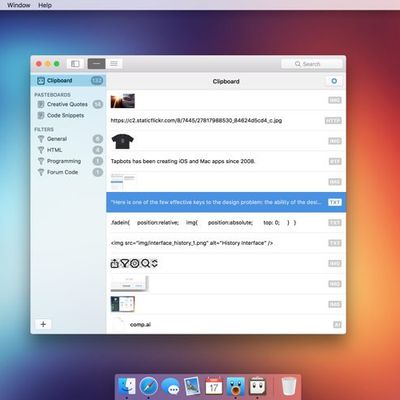 Tapbots, the developers behind the popular Twitter client Tweetbot, today launched Pastebot 2.0 for Mac, which is designed to make copy and paste better. Pastebot is a clipboard manager that saves everything you copy so you can access it later. Pasteboards, which are built into Pastebot, let you store links and snippets of text that you frequently copy and paste so you can access the info in...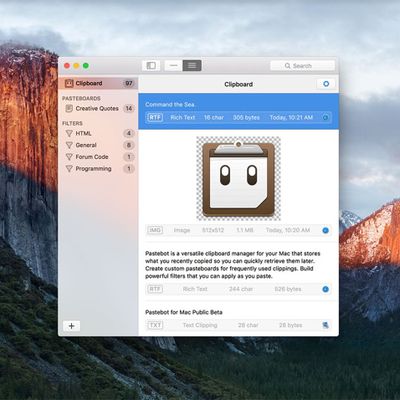 Tapbots, the developers behind popular Twitter client Tweetbot, today announced a public beta for their latest app, Pastebot. Pastebot is a clipboard manager for Mac designed to store everything you copy so that it can be re-accessed at any time. Available as both a Mac menu bar app and a standard app, Pastebot supports Pasteboards, where snippets of text that you frequently copy and paste can ...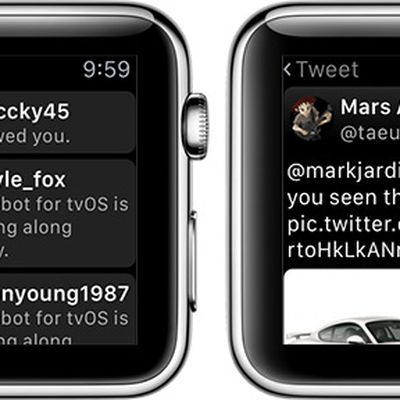 Tapbots today released a significant update for its latest Tweetbot 4 Twitter client, adding support for the Apple Watch. On the Apple Watch, the default view is the Activity Feed, which includes Mentions, Favorites (soon to be likes), and Follows - the content you'd most likely want to view on a small screen. From the Activity Feed, it's possible to tap to view individual tweets to Reply,...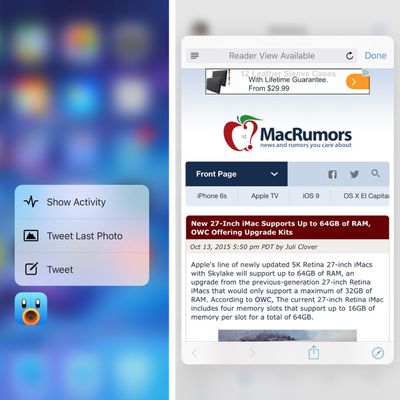 Popular third-party Twitter client Tweetbot is the latest app to be updated with support for the 3D Touch feature on the new iPhone 6s and 6s Plus, and it now supports both Quick Actions on the Home screen and Peek and Pop gestures within the app itself. A hard press on the Tweetbot icon on the Home screen brings up options to create a new tweet, tweet a photo, and view the Activity Tab that...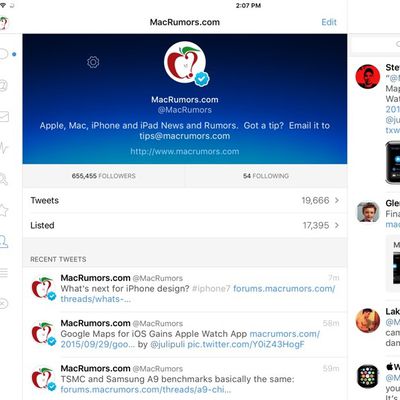 Tapbots today launched its long-awaited Tweetbot 4 update, which brings a slew of important changes to the popular Twitter client. Most notably, today's update expands support to the iPad, making Tweetbot 4 a universal app for the first time and bringing an updated look to the tablet version of the app. Tweetbot 4 on iPad, landscape mode Tweetbot for the iPad has not been updated since June...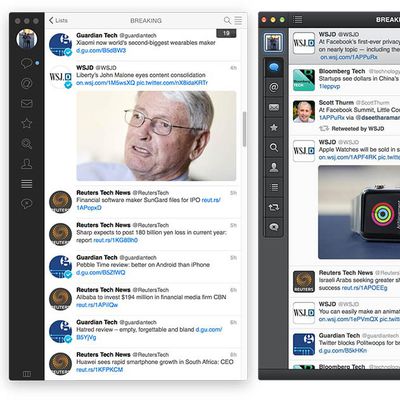 Following several months of development, Tapbots today released Tweetbot 2 for Mac with a major visual overhaul inspired by the flat design of OS X Yosemite and more consistent with the iPhone version of the Twitter client. Tweetbot 2 for Mac is available as a free update through the Mac App Store for existing Tweetbot users and has been discounted to $12.99 from its regular $19.99 price for the...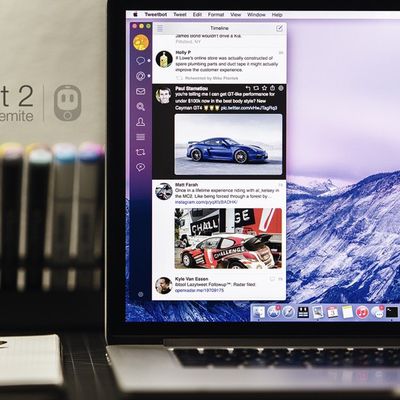 Tapbots, the company behind the popular Tweetbot Twitter client, today tweeted a tantalizing preview image of Tweetbot 2 for Mac, which has received a Yosemite-style redesign. Based on the photo, Tweetbot 2 adopts many stylistic elements from Yosemite, allowing it to blend in well with the updated operating system. It features a flatter look with redesigned icons, plus a translucent navigation ...