Job Listings Spark Speculation of Unlikely Full-Fledged Apple Search Engine
Apple on Monday posted a listing to its Jobs at Apple page describing an Engineering Project Manager position for "Apple Search," sparking speculation the company could be working on a full-fledged search engine for use on OS X and iOS platforms.
As first highlighted by Cult of Mac, the most recent position would be based in San Francisco and asks for applicants who are "technical, driven and creative," with the ability to "manage back end operations projects for a search platform supporting hundreds of millions of users." Though Apple's website lists the job as posted February 2, 2015, entries on other job sites indicate it was originally posted on November 19, 2014.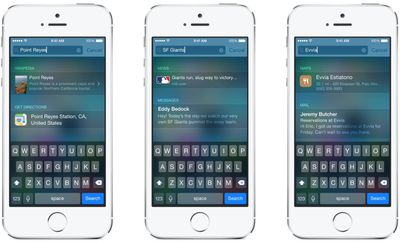 Though the wording appears to hint at a new service, in all likelihood the job's parameters are covering Apple's already-existing search platform, largely embodied in Spotlight. Another job, posted in mid-January, supports the Spotlight probability thanks to frequent mentions of the updated Spotlight Suggestions service.
While gaining attention thanks to the use of the term "Apple Search," the new listings are less likely to be aimed at an entirely new Apple-based search engine and more likely cover ongoing efforts to improve Spotlight. Job listings have in the past hinted at the company's work on upcoming projects, but most of the time - as with patents - they are more of an intriguing tease into what may or may not be going on behind the scenes.
Apple is facing some search engine decisions this year, however, with Google's search engine contract with Apple reportedly set to expire in 2015. That is most likely to be resolved, however, by an extension of the contract for an additional term or perhaps a shift to another provider such as Yahoo or Microsoft, both of which are reportedly lobbying for the lucrative deal.