After opening Friday morning, shares of Apple stock briefly grazed the $120 per share mark, setting a new record high for the company in the market (via AppleInsider). AAPL is currently trading around the $119 mark as of writing, giving the iPhone maker a nearly $700 billion market cap.
Apple announced its earnings for the first fiscal quarter of 2015 on Tuesday, reporting $74.6 billion revenue and 74.5 million iPhones sold on the strength of the iPhone 6 and iPhone 6 Plus. Apple shares previously almost hit today's record high, with a $119.75 price per share, in November of 2014, but regressed down to around $110 in the weeks since.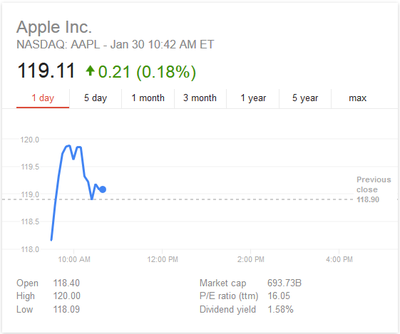 Many analysts remain bullish on Apple's stock, predicting that the company's shares are undervalued and could trade for up to $130 or higher within the next year. With the immense popularity of the iPhone 6 and 6 Plus only growing, and the confirmation of the Apple Watch's launch this April, such predictions may not be far off.