Sony's 'Music Unlimited' Service Shutting Down After Failing to Emerge as Viable iTunes Alternative
Sony announced on Wednesday that it will be shutting down its Music Unlimited on-demand streaming music service ahead of launching Spotify on PlayStation Music. Music Unlimited will shut down in all 19 countries it operated on March 29, 2015, with nearly all of the countries among the 41 regions that Spotify for PlayStation Music will be available upon launch, including the United States, Canada, Mexico and Brazil.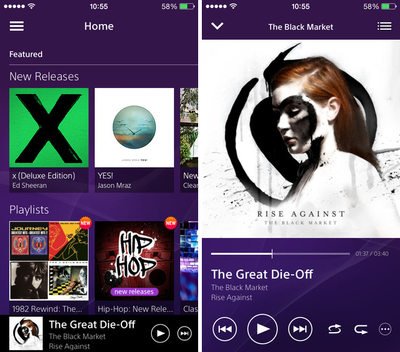 Music Unlimited launched in December 2010 on PlayStation Network in several countries worldwide, and the service was later extended to iPhone [Direct Link], Android, PlayStation Vita and other devices and platforms. In February 2011, it was reported that Sony viewed Music Unlimited as a potential iTunes Store alternative and that it was considering pulling music from Apple's platform if its own service became successful.
"If we do [get mass take up] then does Sony Music need to provide content to iTunes?" Mr Ephraim asked. "Currently we do. We have to provide it to iTunes as that's the format right now."

"Publishers are being held to ransom by Apple and they are looking for other delivery systems, and we are waiting to see what the next three to five years will hold."
The on-demand streaming music landscape has gone through significant change in the past three years, however, and Music Unlimited failed to remain competitive with industry leaders such as Spotify, Rdio, Pandora and Beats Music. Music Unlimited users with active subscriptions will continue to have free access to the service through the March 29 closing date.