Sony Hoping to Pull Music From iTunes Store If 'Music Unlimited' Service Succeeds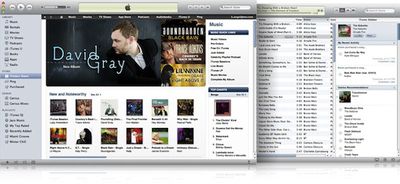 According to The Age
, Sony is looking to its new "Music Unlimited" streaming service not only as an opportunity to grab a piece of the digital music pie but also in hopes of one day being able to pull its music from Apple's iTunes Store entirely.
If Music Unlimited becomes popular it will provide a credible alternative to iTunes for music publishers, including Sony Music Entertainment, which includes Bob Dylan, Beyonce, Guy Sebastian and Delta Goodrem in its stable of artists.
''If we do [get mass take up] then does Sony Music need to provide content to iTunes?'' Mr Ephraim asked. ''Currently we do. We have to provide it to iTunes as that's the format right now.
''Publishers are being held to ransom by Apple and they are looking for other delivery systems, and we are waiting to see what the next three to five years will hold.''
Apple and Sony have recently faced off over App Store content as well, with Apple reportedly rejecting Sony's eBook software from the App Store due to new enforcement of Apple's rules requiring content purchases to be made available through the company's in-app purchasing mechanism.
Apple itself has been rumored many times over the years to be developing a subscription and/or streaming music service, presumably utilizing the capacity of its new North Carolina data center, but the company has reportedly yet to get music labels on board with the plan.
Sony's goal of pulling music from iTunes is of course dependent on a viable alternative such as Music Unlimited developing, something that has yet to occur as evidenced by Apple continuing to hold the lion's share of the digital music market.