Microsoft Debuts 84-Inch Surface Hub Touch Display, HoloLens Augmented Reality Headset
Alongside officially debuting Windows 10, Microsoft today unveiled two new futuristic hardware products, the Microsoft HoloLens augmented reality headset, and the Microsoft Surface Hub, an 84-inch 4K touch screen tablet with multi-touch and multi-pen support, dual camera, and advanced sensors.
The Microsoft Surface Hub runs a version of Windows 10 that's been adapted for the huge 84-inch display, and Microsoft showed the device being used in workplace meetings, as a hub for communication. The screen was used for making drawings and notes, and content projected to the Surface Hub was then shared to all people on a Skype conference call. The Surface Hub was also demonstrated using various Microsoft apps adapted for a larger screen.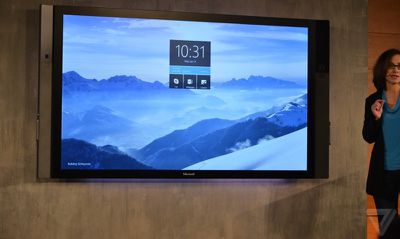 Microsoft has not announced pricing, but the Surface Hub is aimed at enterprise users and is likely to be quite expensive.
The company's second major product debut was the Microsoft HoloLens, which is a headset that uses holographic see-through lenses to allow its users to see and interact with holograms in an augmented reality environment. The HoloLens has spacial sound and advanced sensors to capture location information, allowing for a totally immersive holographic experience, and it has a built-in high-end CPU and GPU, as well as a "holographic processing unit" that processes information and data from the headset's sensors. "HoloLens enables native holographical computing," said Microsoft Kinect developer Alex Kipman.


There are no wires or external connections, and there is no need to have a phone or PC to use the HoloLens. Running a version of Windows 10 called Windows Holographic, the HoloLens knows where a user is looking, providing a virtual display that can be interacted with to launch apps.
In a video, Microsoft showed a holographic view that saw a virtual to-do list projected onto a real refrigerator, and a set of quick-launch apps portrayed on a wall for easy access. It was able to display virtual maps, reminders, and information like weather, all laid over a real view, with Microsoft promising it delivers "new ways to visualize work."
With HoloLens, a Skype conversation could be projected on a wall, or people could play a holographic version of Minecraft. "Imagine an architect walking around their designs while clients are viewing it from a remote location," said Kipman.
On stage, Microsoft demoed something that it calls Holo Studio, which can be used to design personalized 3D creations in just minutes, which can then be 3D printed. The Holo Studio was used to create a full-on quad copter in just a matter of minutes, which was fully functional.


Microsoft's holographic computing was also demoed with the Mars Rover, as Microsoft has had a secret partnership with NASA developing the HoloLens. "We've had the great honor of partnering with one of the most innovative organizations in history," said Kipman as an immersive image from the Mars Rover was displayed on the screen. NASA's been using the technology to allow its scientists to walk on Mars.
According to Microsoft, the HoloLens will launch during the Windows 10 timeframe, which means that it could be available for purchase at some point later this year. Attendees at Microsoft's event today will be able to give the HoloLens a try immediately in Microsoft's lab. More information on the HoloLens will be available in April at Microsoft's Build Developer Conference.