Apple's Time Machine, Cover Flow, and Safari for iOS Targeted in New Patent Infringement Lawsuit
Patent holding company TriDim Innovations this week filed a patent infringement lawsuit against Apple, accusing the companying of violating two 3D workspace patents the company owns. The lawsuit was filed in the U.S. District Court for the Northern District of California with a judge assignment still pending.
TriDim asserts in the suit that Apple is infringing on U.S. patents 5,838,326 and 5,847,709, both of which address document management in 3D workspaces. Specifically, Apple Time Machine, Cover Flow, and Safari for iOS 7 and 8 are claimed to be infringing on the patents.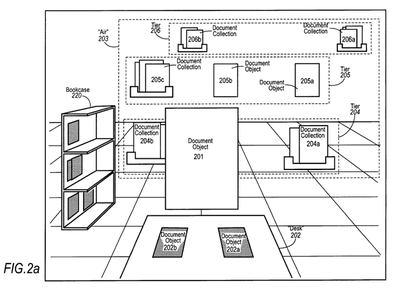 One embodiment of the document display space disclosed in TriDim's patents
Both of TriDim's patents were originally filed in 1996 and awarded to Xerox in late 1998, although they have changed hands several times in recent years. Patent '326 details a method of moving and manipulating document objects in a 3D workspace using touch-drop, flick and other gestures.
A computer controlled display system for displaying a three-dimensional document workspace is disclosed. One or more documents objects are present in the document workspace. The present invention provides for interaction with the collections, e.g. viewing, moving and storing, while balancing the necessary tradeoffs of rapid access, number of collections and associated documents, and available screen space.
TriDim is asking for unspecified monetary damages for Apple's alleged infringement, along with interest and court costs.
TriDim's lawsuit is not the first time Apple has been accused of patent infringement for its Time Machine and Cover Flow interfaces. In 2010, Apple was initially
hit with a $625 million judgment
in a case centered on a different set of patents owned by Mirror Worlds LLC. That verdict was ultimately
overturned
, however, and became final when the U.S. Supreme Court
declined to hear the case
.