Shares of personal camera maker GoPro fell 12 percent as trading volume doubled yesterday following the publication of a recently awarded Apple camera patent (via Bloomberg). Apple was granted US patent no. 8,934,045 yesterday by the U.S. Patent and Trademark Office for a remote control camera system powered by a wrist-worn device.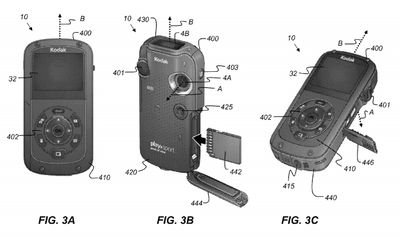 Originally filed by Kodak in 2012 and subsequently acquired by Apple in a much larger patent deal, the patent details a remote digital camera system that can be controlled by a smartwatch or phone. In its description, the patent seeks to address a wind resistance flaw present in select GoPro cameras that may lead to image artifacts.
According to Dougherty & Co. analyst Charlie Anderson, the GoPro stock plunge was led by investors concerned that Apple may encroach on the extreme action-adventure camera market currently dominated by GoPro. Investor reaction to this patent appears to have been overblown, however, as Apple patents a variety of technology innovations, most of which are not used in consumer products. And in this case, the technology wasn't even Apple's to begin with, making it even less clear whether the company has any intention of following up on it.