Chevrolet's Upcoming 2016 Volt Plug-in Hybrid Spotted With CarPlay Integration
GM today at Detroit's North American International Auto Show showcased the upcoming 2016 Chevrolet Volt plug-in hybrid, and as spotted by The Verge, the latest Volt model includes an option for CarPlay as well as MirrorLink in the vehicle's entertainment system settings.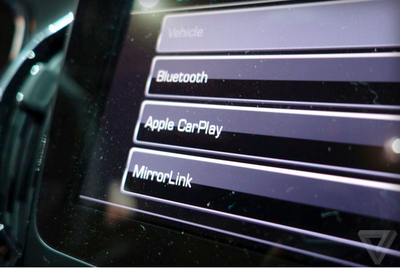 2016 Chevy Volt in-dash entertainment system by The Verge
GM was listed as a CarPlay partner when the technology
was announced
in early 2014, but the company was not expected to incorporate CarPlay into its automobiles right away. Almost one year after the announcement, GM appears to finally be bringing CarPlay to its automobile lineup starting with the 2016 Volt, although the new model is not expected to go on sale to the public until the second half of this year.
Chevrolet has previously been involved in CarPlay demonstrations, but the upcoming second-generation Volt looks to the be first production vehicle with the feature built-in.
GM's CarPlay unveiling follows similar CarPlay announcements from Volkswagen and Hyundai, both of which used CES to showcase their CarPlay-enabled in-dash entertainment systems. CarPlay also is expanding in the aftermarket automobile receiver market with Parrot, Kenwood and Pioneer recently unveiling new CarPlay in-dash receivers.