Supply Chain Sources Claim Rumors of New 4-Inch iPhone Are False
Just over a month after sparking discussion of a possible new 4-inch iPhone in 2015 based on supply chain sources speaking to Taiwanese media, Chinese site Feng.com now claims [Google Translate, via G for Games] its own sources are seeing no indication of such a device.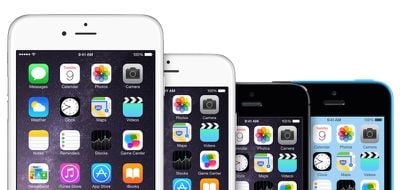 Feng.com's sources claim the Cupertino company has not placed any orders with its supply chain related to a new 4-inch version of the iPhone for release in 2015. While the iPhone 6 and iPhone 6 Plus have sold well in the few months they've been released to the public, some users continue to prefer the smaller 4-inch display seen on models of the past few years.
Wei Feng network today through Apple's supply chain has learned about the 4-inch screen iPhone 6s argument is just a hype.

Supply chain sources said that Apple has not made ​​any new production tasks iPhone 4 inches to parts of the supply chain, and therefore will be launched on 4-inch screen Apple iPhone 6s argument is not true - at least so far.
Since the original report by Taiwanese media last month, rumors of a new 4-inch iPhone have been picked up by a few other sources including analysts in the region, but it is unclear how independent those follow-up reports truly are. As such, there is so far very little to support the existence of such a device.
Apple of course continues to sell 4-inch iPhones in the form of the iPhone 5s and 5c, and if the company holds true to form the iPhone 5s will continue to be sold as an entry-level option even following the expected late 2015 iPhone update. Without direct support for technologies such as NFC for direct Apple Pay usage, however, the device is missing some key features and if Apple does want to continue offering a smaller device beyond the 2015 lineup, it will need to develop an updated model.