Hyundai Bringing CarPlay to 2015 Sonata Models Later This Year
Hyundai today announced that it will bring Apple's CarPlay technology to its Sonata automobile lineup starting next year. This introduction makes Hyundai the first volume automobile manufacturer to bring CarPlay to the market and leaves Honda as the only one of five brands featured by Apple as launching CarPlay support in 2014 yet to make a specific announcement.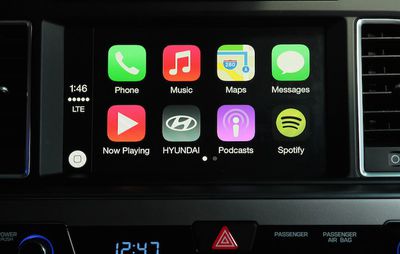 The first Hyundai automobiles to offer the voice-driven system will be the company's popular Sonata line. Models that are equipped with the CarPlay-compatible navigation systems will debut later in the 2015 model year.
Hyundai's latest Audio Video Navigation (AVN) systems are already recognized for their beautiful, yet intuitive interface and advanced feature set. Our engineers took advantage of the vivid eight-inch touchscreen to integrate CarPlay for an experience that iPhone users will instantly recognize.
CarPlay allows an iPhone to integrate into the car's infotainment system, providing Siri voice-controlled access to messaging, voice calls, Maps and music. The technology initially debuted as a factory-installed option in new 2014 luxury models from Ferrari, Mercedes-Benz and Volvo and will be available as an aftermarket add-on via Pioneer and Alpine-branded receivers.