Apple Online Store Gains New Toys Ahead of the Holidays, Now Offering Barbie and Skylanders
As of this week, Apple has begun offering several new toys in its online Apple Store, including a Barbie from Mattel, a Skylanders game, and a WowWee Robot. The new online-only additions come just ahead of the holiday season and mark Apple's continued efforts to bolster its products aimed at younger children.
The most curious new toy offered in the online Apple Store is a Barbie Fashion Design Maker Doll from Mattel. Sold for $49.95, the Barbie is the first doll that Apple has ever sold and at first glance, appears out of place in the online store. The Barbie is a standard Barbie doll, but it is designed to be used alongside a free app [Direct Link] on the iPad that allows children to create customized clothes on printable fabric sheets.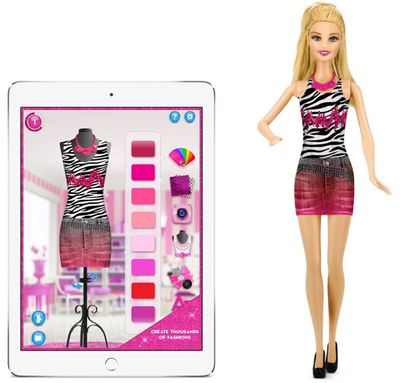 To start, download the free design software app to your iPad, or visit the website to download to your Mac or PC. Use it to create completely customized designs. Select patterns, colors, and accessories available within the program, and add photos to make a really personal statement. Print your finished and fabulous creations onto the eight enclosed printable fabric sheets -- and watch them go from 2D to 3D.
Along with the Barbie doll, Apple is also now selling the Activision Skylanders Trap Team Starter Pack for the iPad. Available for several months via other outlets like Amazon, the Trap Team Starter Pack brings the popular Skylanders console game experience to the iPad. Much like Barbie, Skylanders is very popular with children.
Apple's third kid-oriented offering added this week is the WowWee MiP Robot, a $99 gesture-controlled toy robot that plays games, dances, battles with other robots, and delivers small items.

Full of personality, WowWee's MiP gesture-controlled robot gives you seven different modes and a free app for your iPhone, iPad, or iPod touch that offers a bunch of games. Swipe your hands in front MiP's eyes to the direction of your choosing and watch him follow suit. Or load up MiP's tray with a can of soda and use the MiP app to deliver it. MiP is a loveable toy your whole family can enjoy.
Apple has long offered a variety of iOS-related toys suitable for both children and adults like the Anki DRIVE and the Sphero, but over the course of the last few months, the company has added several accessories oriented solely at its youngest consumers. Products added in 2014 include the Philips/Disney Friends of Hue StoryLight kit, the Tiggly Shapes toddler game, and the Osmo educational gaming system are all aimed at children.
It is not entirely clear why Apple has boosted its focus on accessories for younger children in recent months, but drawing kids into the Apple Store with iPad and iPhone-oriented toys pushes them into the Apple ecosystem at an early age, potentially allowing the company to create lifelong customers.
The expanded range of toys offered by Apple also lets the company reach a whole new demographic and it may be part of new retail chief Angela Ahrendts' efforts to redesign the Apple retail experience. As noted earlier this year, Apple's new head of retail is aiming to overhaul the end-to-end Apple Store sales experience, reimagining product discovery and improving customer interactions with employees.