Apple will expand its retail operations in India with 500 new stores that see the company's reseller network moving into smaller towns and cities, according to a new report from The Times of India (via iPhone Hacks). The new locations will be done in collaboration with longtime distribution partners Redington and Ingram, and the stores themselves are said to be "smaller in size" and could range from 300-600 square feet. Apple is said to be in favor of adopting a franchise model for these stores, and is expected to increase spending for direct advertising in India.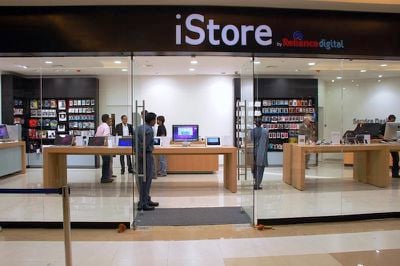 "All this will change now. The company is finalizing plans to become a serious player in India, which is being seen as a strategic and one of the most promising markets globally," a top company source told TOI.

Sources said the company feels that there is "very high" potential for its products, including in smaller towns and cities like Amritsar, Pathankot, Moga, Coimbatore, Trichy, Nagpur and Nasik. Currently, the company is big in cities like Delhi, Mumbai, Bangalore, Kolkata and Chennai. "We are amazed at the purchasing power in smaller towns. The primary objective is to give a better and proper experience with adequate product demonstration," another source added.
Plans for the expansion have been tentatively approved by Apple and are expected to be fully defined soon. Previously, a report last October shared similar information about the company's plans in India, although that report said that the company would build 100 exclusive standalone stores under the franchise model in smaller markets. That move was expected to be finished by the end of the fiscal year, however it appears that the company is finally gearing up to approve new reseller outlets in the region. While the company ships to India, Apple notably does not have any Apple Retail Stores of its own in the country. Sales of phones in India are dominated by rival Samsung, although iPhone sales did increase by 400% year-on-year in 2013.