iPhone 6 Launch Drives Record App Store Downloads in October
Interest in Apple's iPhone and iOS platform remains high with continued strong hardware sales driven by the iPhone 6 and 6 Plus launch pushing App Store downloads to record-setting levels in October, reports mobile marketing firm Fiksu.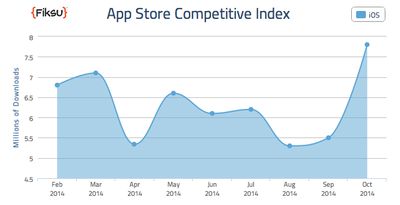 According to Fiksu's October App Store Competitive Index, app downloads reached a record-setting high of 7.8 million per day across the top 200 free iOS apps. This is a 42 percent jump from September and a 39 percent increase year-over-year, with the trend expected to continue into the holidays.
Fiksu also highlights a disparity between rising advertising costs and a drop in marketing costs per loyal user for app developers, pointing to how nurturing a loyal user base can ensure users immediately add their favorite existing apps to new devices.
Despite the marked rise in advertising costs particularly on iOS, the Cost Per Loyal User Index (CPLU) indicated a slight decline in October to $2.16 from September's $2.25. This decrease is a result of the tendency of app users to quickly re-download their most-used "vital" apps during upgrades. The first set of apps users download on their new iPhone 6s are likely to be those they can't live without, which makes them much more likely to become loyal users of those apps.
Apple's iPhone 6 and 6 Plus launched in September with a record-breaking 10 million units sold during the first weekend of retail availability. Apple sold a total of 39.3 million iPhones in fiscal Q4 2014 and 169.2 million iPhones for the year. This growth is expected to continue in the holiday quarter with predicted sales of 71.5 million units.