Apple Announces World AIDS Day 2014 Campaign for (Product) RED Featuring 'Apps for (RED)' Section in App Store
Apple today announced its campaign for World AIDS Day 2014 done in collaboration with (Product) RED, noting that it will offer a special Apps for (RED) section in the App Store that will contain 25 apps with exclusive new content that will benefit the Global Fund to fight AIDS. In addition to these special apps, Apple will also donate a portion of its retail and online sales on Friday, November 28 and Monday, December 1.

"Apple is a proud supporter of (RED) because we believe the gift of life is the most important gift anyone can give," said Tim Cook, Apple's CEO. "For eight years, our customers have been helping fight AIDS in Africa by funding life-saving treatments which are having a profoundly positive impact. This year we are launching our biggest fundraising push yet with the participation of Apple's retail and online stores, and some of the brightest minds in the App Store are lending their talents to the effort as well."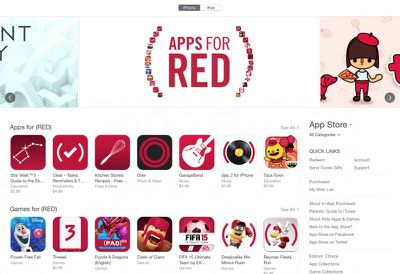 The Apps for (RED) campaign in the App Store will run from Monday, November 24 to Sunday, December 7, and will include special versions of apps like Angry Birds, Clash of Clans, DJay 2, Clear, Paper, and more. On Friday, November 28, Apple's customers in the United States will receive a special (RED) iTunes gift card with the purchase of select Apple products, as the company will donate a percentage of each gift card to the Global Fund to fight AIDS. On Monday, December 1, Apple will donate a portion of every sale at its retail and online stores to the Global Fund to fight AIDS.
Apple and (Product) RED have worked together for a number of years, as the organization announced in June that Apple had contributed $75 million. Throughout the history of their partnership, Apple has released a number of (RED) devices including iPod nanos and shuffles, iPad Smart Covers, iPhone Bumpers, and iPhone cases. With every (RED) product bought, Apple donates a portion of the purchase price to the charity.
Apps for (Product) RED is live in the App Store.