Apple Replaces 'Free' Purchase Button Labeling With 'Get' in App Store
Apple has changed the wording for free games in its App Store, and the app purchase buttons that once read "Free" for apps with no cost now read "Get" instead. The change has been implemented on both the iOS App Store and the desktop App Store.
Apps that have an upfront cost continue to be listed with a price underneath, but apps that do not now display the new wording. "Get" has replaced "Free" in the main App Store view on iOS, on the App Store Top Charts, and on individual app pages. The main App Store view on the desktop is still using the former "Free" wording, but it's likely to update soon.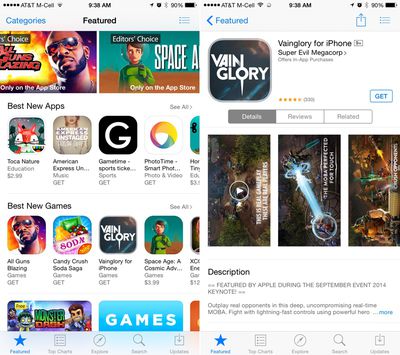 It is not entirely clear why Apple has decided to replace Free with Get, but it may have to do with the growing sentiment that apps with in-app purchases are not free. Earlier this year, the European Commission asked Apple and Google to implement changes to the way they sell apps, to avoid misleading customers about "free" games that are not actually free.
Back in July, Google announced that it would cease calling games with in-app purchases "free," prompting the European Commission to pressure Apple into making the same moves by saying the company had not done enough to adequately address its concerns.
In a statement following the EU's accusations, Apple pointed towards its "strong" parental controls, labels for in-app purchases, and kid sections in the App Store. Apple also highlighted "Ask to Buy," an iOS 8 Family Sharing feature, and said that it would "continue to work with the EC member states to respond to their concerns."
As the App Store has evolved, Apple has made significant changes to attempt to adequately inform customers about in-app purchases. All apps with in-app purchases are clearly denoted with an "Offers In-App Purchases" disclosure on their purchase pages and in the App Store Top Charts.
Apple requires users to enter a passcode before making an in-app purchase, notifies consumers when an in-app purchase is about to be made, and obtains express permission with a popup warning. iOS 8 introduced even more control over app purchases, letting parents approve or deny their children's purchases via Family Sharing.