Apple Email Campaign and Online Store Update Highlight Holiday Gift ideas
Apple today revamped its online store and sent out emails to customers in preparation for the upcoming holiday shopping season. The new holiday promotion emphasizes gift ideas with a focus on iOS devices, Macs and Beats audio hardware.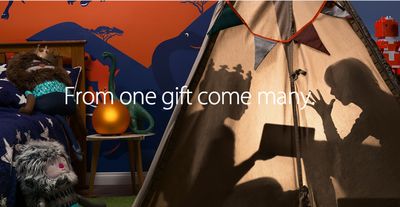 Immediately below the tagline "From one gift come many," Apple places its focus on its iPad line of tablets, which recently were refreshed with the iPad Air 2 and the iPad mini 3. The company promotes the utility of the devices, noting how people can use the tablets to complete a variety of tasks, including choreographing a recital or exploring the North Pole.
Apple next highlights the Mac with an advertorial that entices people to create the next holiday classic in a subtle reference to last year's award-winning "Misunderstood" holiday commercial. Other showcased products include the Apple TV, new Apple Store gift cards, the iPhone and Beats by Dr. Dre audio accessories.
Apple traditionally offers a Black Friday sale to kick off the holiday shopping season with modest discounts on its product lineup. Apple has yet to announce its 2014 Black Friday promotion, but the company last year offered Apple Store gift cards with the purchase of select items including iOS devices, Macs and various Apple-related accessories.