Other World Computing (OWC) today announced the upcoming availability of its new Thunderbolt 2 dock. The OWC Thunderbolt 2 dock includes twelve ports, allowing for the connectivity of up to 78 direct and daisy-chained devices through a single Thunderbolt connection.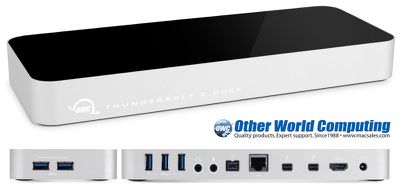 Designed with Apple hardware aesthetics, the dock is compatible with Thunderbolt-equipped Macs in both form and function. Available expansion connections include two Thunderbolt 2 ports, five USB 3.0 ports, 3.5mm audio in/out and one port each for Firewire 800 devices, Gigabit Ethernet, and HDMI 1.4b with support for 4K displays.


The OWC Thunderbolt 2 dock compares favorably with Belkin's Thunderbolt 2 Express Dock HD, which debuted earlier this year. Similar to OWC's latest offering, Belkin's $299 expansion dock includes two Thunderbolt 2 ports, one HDMI port and one Gigabit Ethernet connection. It also offers two audio out ports and three USB 3.0 ports as compared to five for OWC.
The OWC Thunderbolt 2 dock is available now for pre-order with a price tag of $249 and an expected ship date of early December.