Apple's Initial Investment in U.S. Mac Production Estimated to Create 200 Jobs
Bloomberg reports that Apple's $100 million plan to bring some Mac production back to the United States is likely to be a very modest operation at the outset, with some economists and industry experts projecting that the effort will create approximately 200 jobs.
The investment "sounds like a 200-job operation with about a million-unit output," said Dan Luria, a labor economist at Michigan Manufacturing Technology Center in Plymouth, Michigan, who studies factory operations. Apple will probably rely on tax breaks and other incentives for the facility, he said. [...]

While Apple's commitment could set a precedent for electronics suppliers, it probably doesn't presage a large or rapid shift of production back to the U.S., said Michael Marks, the former CEO of Flextronics International Ltd., which was the largest contract manufacturer in the world before the rise of Foxconn. He also estimates $100 million may create about 200 jobs.
Apple is presumed to be working with its primary manufacturing partner Foxconn on the project, as Foxconn has also expressed interest in building operations in the United States.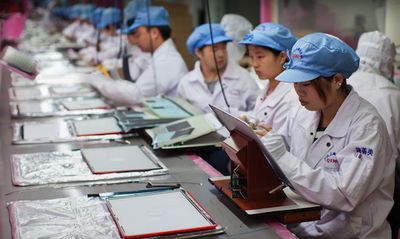 Workers at Quanta Computer in Shanghai assembling MacBook Pro display enclosures
Apple's efforts to bring Mac production back to the United States come just as Lenovo, which purchased IBM's personal computer business in 2005, has announced plans to begin PC production in North Carolina. Lenovo's effort is also a modest one, projected to employ roughly 100 workers to produce several hundred thousand units per year.