Apple Retail Making Gift Card and Uniform Changes for Holiday Shopping Season
As is typical for this time of year, Apple is planning to spruce up its retail operations ahead of the end-of-the-year holiday shopping season. This year's changes in the company's retail offering include new colors for store gift cards and holiday-colored shirts for Apple employees, with retail head Angela Ahrendts reportedly introducing these holiday updates in an internal company video.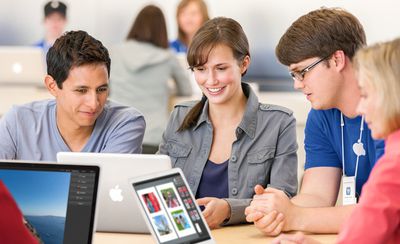 Anonymous sources claim Apple's new gift cards will move to solid silver, gold and space gray designs to match the current styling of the iPad and iPhone. Similar to previous gift cards, these new gift cards can be used in store or online with a value up to $2000. They will debut starting today, November 17.
Other retail changes include the rollout of red holiday t-shirts to replace the traditional blue shirts for employees and the removal of the neck lanyard from the employees' standard retail uniform. The lanyard badge holders are distinctive to Apple and issued to current employees, but without the lanyard there will be more emphasis on employees introducing themselves to customers.
Apple retail stores will also begin servicing Beats Electronics products starting tomorrow, as shown in an internal memo leaked by TechnoBuffalo late last week. Retail sources have confirmed to MacRumors that the leak is genuine and that most service will not take place at stores themselves, but instead be handled through mail-in depot channels. Issues with minor items such as cables, chargers, and cables will be handled in-store.
These small modifications are part of a larger plan by Angela Ahrendts to revamp Apple's retail operations. Apple's recently appointed retail chief reportedly is focusing her efforts on mobile payments, expansion into China, and the customer's Apple Store sales experience.