Staples and Radio Shack to Offer Modest Black Friday Discounts on iPads, iPods, and More
Customers looking for discounts on Apple products this Black Friday have two more retailers to add to their shopping lists -- Staples and Radio Shack. Black Friday discount website BFads recently published leaked sales flyers from both retailers in advance of the biggest shopping day of the year.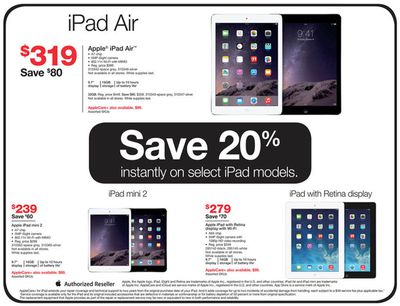 Staples is offering discounts on a variety of Apple gear, including $80 off the 16GB iPad Air WiFi ($319), $60 off the Retina iPad mini 2 ($239), $70 off the iPad with Retina Display ($279) and $20 off the Apple TV ($79). The office supplier also is taking 10 percent off all Beats by Dr Dre headphones and 15 percent off all iTunes gift cards of $50 or more. As an added bonus, customers with an iPhone 6 or 6 Plus can save time during checkout by using Apple Pay.


Radio Shack isn't offering any discounts on iPad or iPhone models, but the retailer still is lowering prices on the Apple TV ($85), iPod Touch 16GB 5th generation ($149), and iTunes gift cards (15 percent off). Other Apple-related items going on sale include the Beats Solo HD Drenched headphones ($69.99 After Mail-in Rebate) and a variety of Apple iPhone and iPad accessories.
For even more Black Friday sales, be sure to check out our Black Friday roundup. We are updating that page with additional deals on Apple-related items as they are announced.