Apple today announced on its website (via ifoAppleStore) that it will be opening its store in Lille, France on Saturday, November 15. The store will be located on 1 Rue Faidherbe, which also hosts a number of other luxury retailers and outlets. The store itself will contain two levels and span 1400 square meters (15000 square feet) and wrap around the city block, offering a wide amount of space for both sales and services.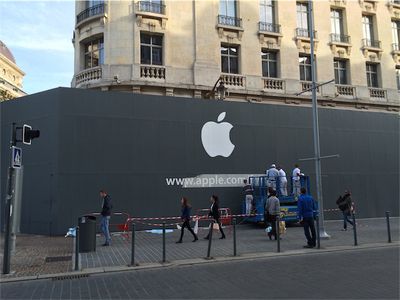 Apple put up its traditional black barrier around the store just last week, with the location marking Apple's eighteenth store in France. The Apple Store Opéra in Paris has become known as one of the company's most visually stunning locations, as Apple also has stores in Dijon, Lyon, and Nice.
Apple is expected to hand out commemorative T-shirts to the first 1,000 customers to visit. The Apple Store Lille opens at 10 A.M. on Saturday, November 15, and the location has begun accepting reservations for workshops and Genius bar appointments.