Apple's Jony Ive Talks Apple Watch at SFMOMA Lifetime Achievement Award Ceremony
Apple design chief Jony Ive on Thursday was honored by the San Francisco Museum of Modern Art in an event that celebrated Ive's 2014 Bay Area Treasure Award. The award, bestowed by the Modern Art Council (MAC), recognizes creative individuals who have influenced visual culture.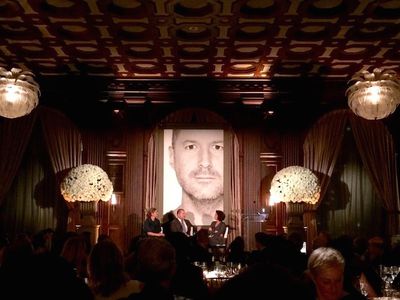 "Ive is our generation's most innovative and influential figure in the field of industrial design—no other design mind has done more to transform the way we visualize and share information," said SFMOMA Director Neal Benezra. "SFMOMA was the first museum on the West Coast to establish a department of architecture and design, and we're thrilled to celebrate Ive's revolutionary achievements."
Speaking during the award ceremony, Ive commented on the Apple Watch and the challenge of designing Apple's first smartwatch product in a series of comments reported by The Wall Street Journal.
"Even though Apple Watch does so many things, there are cultural, historical implications and expectations," Ive said. "That's why it's been such a difficult and humbling program."
Ive also emphasized the dilemma of developing a product that would mean different things to different people. Adding to the complexity of the design is the device itself, which is used only casually by its owners.
"As soon as something is worn, we have expectations of choice," said Ive. Only "in prison," he joked, do people all wear the same thing."
Ive's strict focus on his design work was also revealed in the interview when he admitted he didn't know the details of Apple's most recent financial results.
"I honestly don't know the numbers," said Ive. "But I know they are high."
The Bay Area Treasure Award is one of several awards given to Ive in recent years. The Apple designer was the recipient of a National Design Award for the iPhone in 2007 and a team-issued 2012 Design and Art Direction award. He also was made a Knight Commander of the Order of the British Empire in a ceremony held in 2012.