Apple's Entire Design Team Travels to London for Award Acceptance
The London Evening Standard reports that Apple design chief Jonathan Ive and his entire team made a trip to London yesterday in order to accept a prestigious award from Design and Art Direction (D&AD). The acceptance of the award, which recognized Apple's design team as "the best brand and the best design studio of the last 50 years", was reportedly the first time the entire team attended such a ceremony.
Sir Jonathan Ive, the company's design guru, who usually eschews publicity, came to collect the awards, which were held at a dinner at Evolution in Battersea Park in London.

Even more unusually, Apple flew in its entire design team from San Francisco in recognition of the importance of the D&AD Awards and all 16 of them - 14 men and two women - accompanied Sir Jonathan on stage to collect the award for best design studio.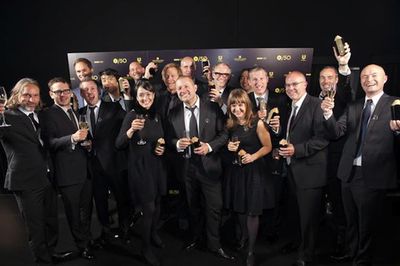 Ive and his team have long worked in extreme secrecy on Apple's campus, with Ive himself opting to remain out of the public eye as much as possible. Ive has, however, become significantly more visible in recent years as Apple's stature has grown and recognition of his team's design work has continued to accumulate, with Ive even being knighted earlier this year.