NFC-Equipped iPad Air 2 Sparks Speculation of Future Apple Pay Registers for Small Businesses [Updated]
Earlier this week, a teardown analysis of the iPad Air 2 by iFixit surprisingly revealed the presence of a near field communications (NFC) controller chip that is identical to the one inside the iPhone 6 and 6 Plus. Apple never advertised the Air 2 as having NFC, and the tablet doesn't support contactless Apple Pay payments, so the inclusion of this chip is somewhat puzzling.
In a new article, Gigaom examines the reasons why Apple might include but not activate this hardware in its tablet device, speculating that the chip may eventually serve to help small businesses process payments.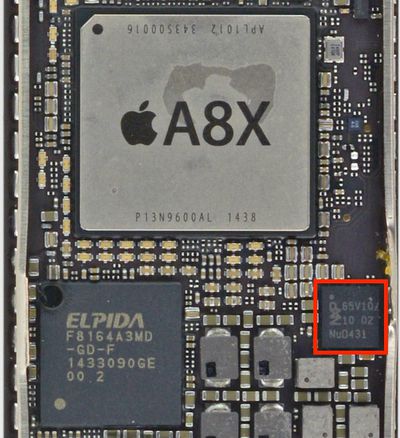 Portion of iPad Air 2 logic board showing NFC chip boxed in red (Source: iFixit)
In this scenario, the iPad Air 2 would serve as a cash register, potentially using the onboard NFC chip to process wireless Apple Pay payments without any additional hardware. The iPad already is gaining traction with small retailers for use as a mobile register, often in conjunction with a credit card reader and processing service such as Square. But with Apple Pay rolling out as an NFC system for payments, Apple could be eventually be looking to help retailers accept such payments with its hardware.
The key to NFC in the iPad Air 2 is that it affords the possibility of becoming an Apple Pay cash register with no dongle needed. Conceivably, it could expand the number of outlets that take Apple Pay from around 40 to anyone selling stuff who owns the latest iPad. It brings Apple Pay out from the big box store and into farmers' markets and boutiques.
Such a system would appear to complement rather than replace existing credit card implementations used by small businesses, as Apple Pay currently has only limited distribution through the iPhone 6 and 6 Plus and retailers would still need to accept traditional credit and debit cards. Businesses also still require credit card processing arrangements through either a bank or a separate payment service such as Square.
Apple Pay launched earlier this week with only a few hiccups in an otherwise smooth release. Early reports were favorable with most users noting that transactions were processed quickly and easily. Its biggest limitation is distribution, with only large chain launch partners officially accepting the payment service. But as Apple Pay evolves, it will be interesting to see whether the NFC-equipped iPad Air 2 and small businesses will play a bigger role in Apple's mobile payment plans.
Update: As pointed out by a number of readers, the lack of NFC antennas in the iPad Air 2 leaves it unclear how the iPad Air 2 could be used as payment receiver. Forum member GekkePrutser notes that the chip is likely included in the iPad because it houses the secure element where Apple Pay data is stored for the in-app payment feature that is supported on the new iPads.