iPad Air 2, iPad Mini 3 Now Available In Stores via Personal Pickup
Apple's new iPad Air 2 and iPad mini 3 have begun hitting retail stores, as we reported earlier, and the tablets are now available for in-store pickup for a limited number of retail locations that have received shipments. It appears that in-store availability is limited to Wi-Fi only tablets at this time.
Many stores on the east coast of the United States are showing wide availability of both tablets as stores receive shipments and unpack boxes. Availability on the west coast is still limited as it is earlier in the day and stores are not yet prepared to begin retail sales.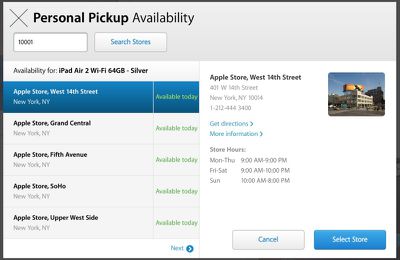 Apple store employees appear to be unaware that stores are receiving stock today, as several phone calls placed by MacRumors resulted in responses suggesting the tablets would not arrive in stores until later in the week or early next week.
The iPad Air 2 is still showing shipping estimates of two to four days when ordered online, and some rumors have suggested that supplies are limited, which explains the tablet's quiet in-store release. At announcement, Apple declined to state when the iPad Air 2 and the iPad mini 3 would be available in retail stores.
Apple's iPad mini 3, meanwhile, appears to be available in greater supply, displaying shipping estimates of 24 hours. iPad mini 3 pricing starts at $399 for the entry-level model, while iPad Air 2 pricing starts at $499.
While the iPad mini 3 received only Touch ID and a gold color option, the iPad Air 2 has seen significant updates including a thinner design, a new "gapless" display, an anti-reflective coating, 2GB of RAM, an A8X processor, and an upgraded 8-megapixel camera.