Apple to Continue Offering Public Beta Versions of OS X Software
With the release of Yosemite, Apple introduced a public beta test for the first time, allowing more than a million consumers to sign up for and participate in the Yosemite beta. In past years, beta testing new Mac software has been left up to developers and a select number of Apple Seed members.
It appears that Apple found Yosemite's public beta testing to be successful, as the company today sent out an email that suggests it will continue to offer public beta tests for OS X software in the future. In an email that thanks Yosemite testers, Apple says that members of the OS X Beta Program will continue to be offered beta versions of OS X software updates.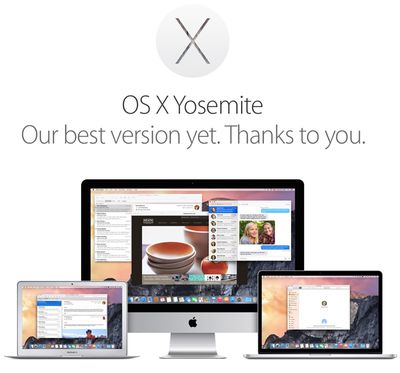 Thanks for participating in the OS X Yosemite Beta Program. As you know, OS X Yosemite brings an elegant redesign, continuity features for using your Mac, iPhone, and iPad together, and major enhancements to the apps you use every day. And it's now available for free from the Mac App Store.

Please install the release version of OS X Yosemite. As a member of the OS X Beta Program, you will continue to be offered beta versions of OS X software updates on any Mac that you installed the beta on. However, if you prefer to stop receiving beta updates, please click here.
Over the course of the beta testing period, Apple seeded six separate public betas to beta testers. While public beta testers received fewer updates than developers early on, towards the end of the beta testing period, updates became more frequent and the final beta that was sent out mirrored the third golden master sent to developers.
It is unclear if Apple will seed minor OS X updates to the beta testing public, or if the next major public beta test will come in 2015 with the release of the next-generation OS X 10.11 Mac operating system.