What's Coming in iOS 8.1: Apple Pay, SMS Relay, Instant Hotspot, Camera Roll, and More
During yesterday's iPad-centric media event, Apple executives announced that the first major update to iOS 8, iOS 8.1, would be released to the public on Monday, October 20.
First seeded to developers at the end of September, iOS 8.1 promises to bring a quite a few significant features to the operating system, offering new services and finally allowing Yosemite users to access the full functionality of Continuity.
While some major Continuity features like Handoff and Phone calls on the Mac are working for users who have both an iOS 8 device and a Mac running OS X Yosemite, other features, like SMS relay and Instant Hotspot will not be available until Monday, when iOS 8.1 is released.
With SMS relay, both Macs (running Yosemite) and iOS devices like iPads are able to receive SMS messages that have been routed through a user's iPhone. Currently, while iPads and Macs can receive iMessages, SMS messages are limited to iPhones. When SMS relay is functional, an SMS message that has been received will be forwarded to iPads and Macs, and users will be able to answer all of their messages on any device. It's also possible to start SMS-based conversations directly on a Mac or iPad.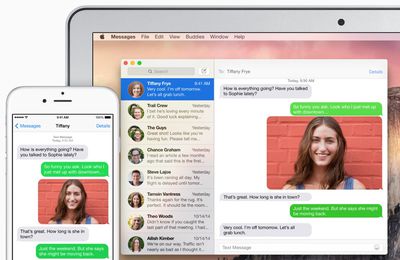 Instant Hotspot is another facet of Continuity that will be enabled with iOS 8.1. This feature lets a Mac remotely activate the Personal Hotspot capabilities of an iPhone when the two devices are near each other. The Mac can automatically detect an iPhone with Hotspot and users can connect to a Hotspot via the Mac's Wi-Fi menu without needing to remove the iPhone from their pocket.


While these two Continuity features were originally slated to launch alongside iOS 8, Apple added a small footnote to its iOS 8 press release suggesting the features were unfinished and would come with the iOS 8.1 update.
iOS 8.1 will enable Apple Pay, a major new service and Apple's first foray into mobile payments. When Apple Pay becomes available on October 20, hundreds of retailers will be prepared to start taking payments using the service, and numerous banks will be on board. With Apple Pay, iPhone 6 and 6 Plus users can make purchases solely via their iPhone at any store that accepts contactless payments.
Along with Apple Pay and Continuity features, iOS 8.1 will bring several other minor changes as well, as detailed during Thursday's event. Many users were unhappy with the disappearance of the Camera Roll, which Apple announced will be reinstated in iOS 8.1, and beta iCloud Photo Library access will be provided to all iOS 8.1 users.


iCloud Photo Library is designed to store all of a user's photos and videos, making them accessible on all of their iOS devices. iCloud Photo Library is tied to a user's iCloud account, using the storage space of their iCloud plans. With iCloud Photo Library, photos are kept in the cloud with a smaller version available on iOS devices, taking up less storage space. iCloud Photo Library will also tie in to the upcoming Photos app for the Mac, but until that is available, iCloud Photo Library will only be available on iOS devices.
Finally, iOS 8.1 may bring several bug fixes, including a fix for an ongoing Bluetooth issue that has caused some iOS 8 users to have trouble pairing their phones with their Bluetooth devices. Apple has not provided a time for the release of iOS 8.1, stating only that it plans to release the software on Monday.