iFixit Tears Down New Retina iMac, Internal Layout Largely the Same as Prior Generation
Though the new iMac with 5K Retina display was just released yesterday, iFixit has already acquired and disassembled one of the new machines, giving us a look at what's underneath the iMac's ultra thin display.
Apple's newest iMac continues to use many of the same design elements from previous iMacs, including an easily accessible RAM upgrade slot on the back of the device. With the RAM slot, users will be able to install their own RAM modules with little trouble.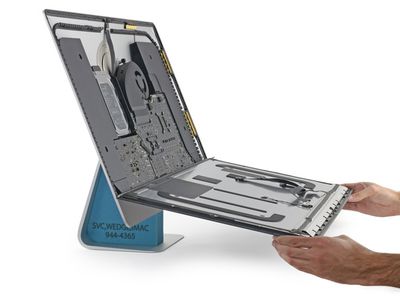 The 5K display, which has a resolution of 5120 x 2880, was manufactured by LG Display, the same supply partner that has manufactured iMac displays for Apple in the past. Aside from the display, iFixit found that the Retina iMac internals look much like the internals of the 2013 iMac, with the sole difference being a wider display data cable.
Along with an AMD Radeon M290X GPU and i5-4690 processor from Intel, the iMac contains SK Hynix 256 MB GDDR5 SGRAM. It uses the same SanDisk PCIe SSD as the late 2013 Retina MacBook Pro, with Marvell Controller, and it uses the same AirPort/Bluetooth card that was used in the 2013 27-inch iMac.


The 27-inch iMac with Retina 5K display earned a repairability score of 5 out of 10, the same score earned by the 2013 27-inch iMac. iFixit pointed out that the RAM, hard drive, and CPU are user replaceable with some adhesive cutting, but removing the glass and LCD panel from the machine remains a difficult task for all those but the most dedicated do-it-yourselfers.