Lenovo Product Engineer Ashton Kutcher 'Not Concerned' About Upcoming iPad Launch
Lenovo today launched the Yoga Tablet 2, which comes equipped with either Android or Windows 8. Available in three different sizes ranging from 8 to 13 inches, the tablets are priced from $249 to $499. On the smaller end, the 8 and 10 inch tablets (Windows or Android) have a resolution of 1,920 x 1,080, while the larger 13-inch Pro version (Android only) has a resolution of 2,560 x 1,440.
The tablets come equipped with a 180-degree kickstand and the 13-inch Pro model comes equipped with a built-in pico projector that can project an image up to 50 inches on a wall as its defining feature. The tablets and two new two-in-one Yoga laptops have been created by Lenovo in conjunction with Ashton Kutcher, a "product engineer" at the company. Along with serving as one of Lenovo's product engineers, Kutcher also famously starred as Steve Jobs in "Jobs," the biographical movie directed by Joshua Michael Stern.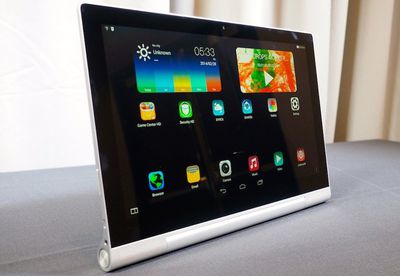 Lenovo Yoga Tablet 2 Pro image courtesy of

Engadget


In an interview with The Wall Street Journal, Kutcher sat down to talk about the creation of the Yoga Tablet 2 Pro and give his thoughts on Apple's upcoming iPad lineup. According to Kutcher, he traveled to China to brainstorm a product consumers want. with the aim of making a "great entertainment device."
For that reason, the Pro tablet comes equipped with a subwoofer and an 8-watt speaker, along with a 13-inch screen. "Because people use it in the home, we don't need to create this super portable device," Kutcher said. And with the projector, users don't need to look for an HDMI cord or use AirPlay, because there's a "built-in 50-inch screen."
When asked about the upcoming iPad, Kutcher said he wasn't worried about the competition as it would be unlikely to approach the features found in the Lenovo tablet.

Not at all. I'm not concerned about it in the least bit. Maybe it will be an iPhone Plus Plus. I think Apple has their fingers in a lot of things. We are really focused on this space and this product. I will be really surprised if they launch anything that approaches what we have here.
While Apple is said to be working on a larger 12.9-inch iPad, its upcoming October 16 launch event will focus on new versions of its already existing tablets, the iPad Air and the Retina iPad mini. Rumors have suggested the new iPad Air will receive an updated A8 processor, an improved camera, a gold color option, a new anti-reflective screen, and possibly 2GB of RAM.
Apple's 12.9-inch iPad, meanwhile, is currently on hold with production delayed until Apple can meet demand for the iPhone 6 Plus. Lenovo's smaller Android Yoga tablets are available now, while the larger projector-equipped version will launch later in October.