New Apple Pay Setup Screens Unearthed in iOS 8.1 Beta 2
Hours after Apple seeded the second iOS 8.1 beta to developers, developer Hamza Sood has located the Apple Pay setup screen in the Passbook app, the Apple Pay setup screen in the initial iOS 8.1 setup and Apple Pay setup on the iPad. Previously, Sood had found the Apple Pay setup screen within the Settings app.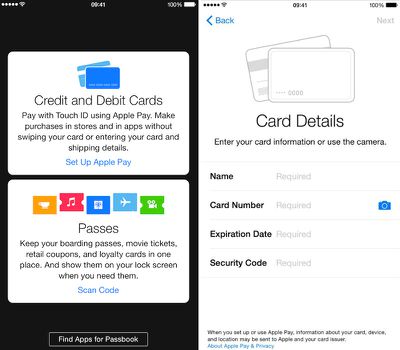 The setup prompt within Passbook is similar to the setup prompt to add passes, educating potential users on what the service is before providing a link to where users can input and scan their credit cards for use. Potential users have the choice to either input their credit card numbers via the keyboard or to take a photo of their card and have it inputted automatically.
The iPad gets the same setup screen as the iPhone version, but does not mention the ability to use Apple Pay in a retail store as no current iPads contain the NFC technology required to use the feature and it is uncertain whether it could be included in future iPads. Additionally, Apple Pay requires Touch ID, which current iPad models do not have, although future iPads are expected to have the new Touch ID home button.
iOS 8.1 is likely to be the update to include Apple Pay, although Apple has not yet flipped the switch within the betas seeded to developers. Instead, the company seems to have been preparing the features behind-the-scenes. Alongside Apple Pay, iOS 8.1 is expected to include a host of bug fixes for issues in iOS 8, including a fix for Bluetooth connectivity problems.